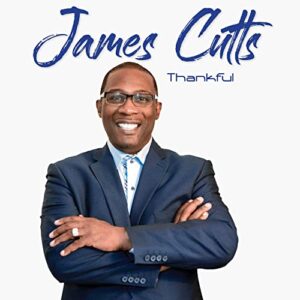 "Thankful"
James Cutts
Independent (released April 16, 2021)
By Robert M. Marovich
Having recovered from the ravages of COVID-19 (his wife also contracted the virus and recovered), Pastor James Cutts sings his testimony on "Thankful," a buoyant piece with a quiet storm R&B vibe.
Though the lyrics focus mostly on generalities, the point is clear: Cutts gives a loving Jesus all the credit for saving his life in every way it can be saved. "You gave me a brand new start / When I thought it was over."
Rather than brood over the past, however, Cutts spends most of the song in praise to Jesus for changing his present. It's the pastor's most mainstream gospel single yet.
From Grand Rapids, Michigan, Pastor James Cutts recorded a single, "Jesus Will Fix It," with welterweight boxer Floyd Mayweather Sr. in 2017, and remixed it two years later.