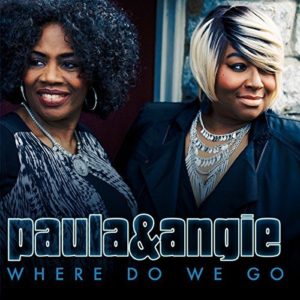 "Where Do We Go"
Paula & Angie
From the G2 Music Group CD Where Do We Go
(release date: August 4, 2017)
www.paulaandangiemusic.com
By Bob Marovich
On the title track of their new album, Where Do We Go, mother-daughter gospel duo Paula & Angie offer sound advice on how Christians can make a difference in today's turbulent world.
Opening with bluesy gospel piano and organ, the song drops into a comfortable mid-tempo groove. The duo asks the body ecclesiae to not get caught up in "rules and doctrines" but instead adopt Christ-like action to "do what's best for all God's children, not just me."
Like Babbie Mason and Wintley Phipps, the North Carolina-based Paula Greene and Angie Greene Gray move effortlessly between the CCM and gospel music worlds with their Andrae' Crouch-inspired contemporary sound. They are living the song's message of unity by being equally at ease appearing on a Stellar Awards showcase as at the Dove Awards Prayer Breakfast.