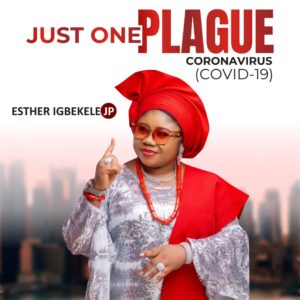 "Just One Plague"
Esther Igbekele JP
By Bob Marovich
To my knowledge, Nigerian gospel singer Esther Igbekele is the first music minister to release a song about COVID-19.
Set to a buoyant West African rhythm, "Just One Plague" is a folk ballad that chronicles the impact Coronavirus has had on the world.
Schools are closed. Businesses are closed. Sports are postponed. Economies are stalled. Governments are humbled. People need to stay a meter apart. Most astonishingly, she points out, the virus has also forced calm in the midst of international violence and political unrest. Ultimately, however, Igbekele commands the virus to be gone: "We don't want you anymore; we need our peace." Peter Abiola (Alpha-P) produced the track.
"The siege will be over," Igbekele noted on her Instagram account. "The storm will stop. The disease will go, and our land will be free. Please stay safe with every measure advised. Personal hygiene will really help us to overcome this pandemic. The Lord will protect us from this dangerous virus. We will not have cause to mourn over any of our family members and loved ones. We also will not be a victim in the name of the Lord. Above all, stay safe!" Words of wisdom.
"Just One Plague" is available for free as part of the artist's campaign against COVID-19 and as a message of hope:  https://bit.ly/2QETRdM
Here's the video, produced by Blessing Fiteg of Fiteg Media: