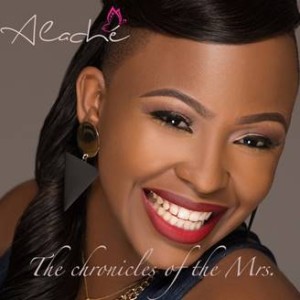 Alache'
The Chronicles of the Mrs. (EP)
MADE, Inc. / Elevate Entertainment / Syntax Distribution
Release date: November 27, 2015
www.alache.com
By Bob Marovich
The Nigerian-born Alache' has learned to be a lot more comfortable about life in the five years that have passed since her last music project.  The petite singer-songwriter is now married, has two children, and is ready to jump back into the music business.
She also wants to share her lessons with you on an EP of intimate personal reflection, titled The Chronicles of the Mrs.
The feathery-voiced Alache' traverses several stylistic platforms in the EP's limited running time, though if run through a Venn diagram, the songs would overlap in the urban neo-soul groove, something between today's female worship leaders and Kierra Sheard in her edgier Kiki days.
For example, on "Another Day," blasts of pulsing EDM punctuate Alache's gushes of gratitude for being able to "see another day." African rhythms shadow her prayerful pleading for spiritual healing on "Awaken Me." Other songs are mellower, as "Same Tears Different Pain" (a diplomatically stated play on an uncouth aphorism), which finds the artist in a running conversation with God about working through life's problems.
"Heaven's Angel," a duet with kindred worship spirit Ron Kenoly Jr., is the most personal rumination on the album. Alache' uses the song to come to terms with the pain of losing her sister-in-law.  Kenoly rues that we "have to let you go" but is optimistic that we will "see you again I know." The song is available on the EP as both a radio single and acoustic selection.
The EP's high point is the melodic "Hiding Place," which likens God to a place of refuge, an embrace that is not so much an eternal covering as a respite and recharging station.
One complication of introducing new songs performed in a variety of styles is that it can be hard to figure out where the artist is most comfortable and where she fits commercially within the galaxy of established gospel stars. In Alache's case, she comes across best in emotional inspirational balladry. A CD of songs more in line with "Hiding Place" would be a natural progression from this comeback EP.
Three of Five Stars
Pick: "Hiding Place."