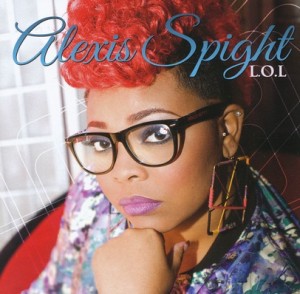 Alexis Spight
L.O.L.: Living Out Loud
Music World Gospel (2013)
www.musicworldgospel.com
By Bob Marovich for The Black Gospel Blog
During "Musiq," a selection from her debut CD, L.O.L.: Living Out Loud, BET Sunday Best Season Five First Runner Up Alexis Spight sings that music is part of her DNA, that if you cut her open, "harmonies and lyrics I'll drain."
That is an interesting image, but I get it.
Indeed, the sounds on L.O.L., released by Music World Gospel last month, seem to pour out of her.  They are nearly as kaleidoscopic in color as the cover photo of the redheaded, bespectacled Spight depicts.  There is no better example of this than the new single, "Steady," where Spight appeals for grounding in a shaky world, as manic drums seem to be the sonic source of the earthquake.
But there's also much about the album that feels autobiographical.  The Buffalo-born Spight, who now lives in Kansas City, has experienced her share of life's challenges.  Spight dedicates Kirk Franklin's "Imagine Me" to "special, unique people like me, outcasts who you never cast out," and goes on to cite Jesus as the ultimate friend in need.  Jesus as friend is also the theme of "Yet I'm Still Saved," another song about life's dark valleys.  On "Live Right Now," Spight is ready to "forget about yesterday" and "live right now."
For all her soul searching, however, nineteen-year-old Spight is sassy and confident, her over-the-top energy evocative of Kierra Sheard during her early solo days, especially on her cover of Myron Butler & Levi's "Set Me Free."
The most fascinating selection is an a cappella arrangement of the spiritual-turned-civil-rights-anthem "Ain't Nobody Gonna Turn Me Around."  At the vamp, Spight's background vocalists repeat the melody while she sings like a die-hard quartet lead.  Spight unveils her inner evangelist on the congregational classic "Power in the Blood" where, after a false intro, the musicians embark on a '60s garage band beat.
If Sunday Best validated the musical DNA of Alexis Spight, L.O.L.: (Living Out Loud) is a portrait of the artist set free to be herself.
Four of Five Stars
Pick: "Ain't Nobody Gonna Turn Me Around."