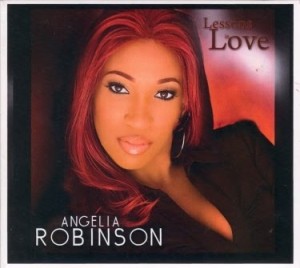 Angelia Robinson
Lessons in Love
The TFD Music 2010
www.angeliarobinson.com
Growing up in the Maryland suburbs of the Nation's Capitol, singer-songwriter Angelia Robinson soaked up all types of music. She has wrung out all of these influences onto her debut album, Lessons in Love.
Lessons in Love mixes hefty helpings of neo-soul with R&B, a touch of Prince-fueled psychedelia and even an island beat ("Let Me Count the Ways"). The frank lyrics cast a blinding light on Robinson's challenging journey to a saved life. "I Hear His Voice" sets the tone – Robinson resisting but ultimately heeding the call to change – and on "If I Didn't Let Go," Robinson admits that "if it wasn't for what God said/I'd be left for dead."
Each track features Robinson imparting in her smart, straightforward alto the lessons learned while traversing from sin to saved. Sometimes the lessons narrowly saved the singer from veering off the cliff. The current single, "Keep Tryin'," even references fleeting thoughts of suicide, and the touching ode "Wishing You Were Here" suggests that among Robinson's peers, at least one attempt was unfortunately successful. The latter song was selected to be part of the soundtrack for the film Saving God, starring Ving Rhames.
Not all songs on Lessons in Love deal with such weighty issues. "They Don't Know" is simply a passionate love song to Jesus, while "It Ain't Goin' Down" is a spitfire warning to avoid men who want "it" without commitment. In essence, the journey Robinson travels is about seeking and finding love, whether that be in a personal relationship with Jesus and/or with a God-fearing life partner.
Despite the varying musical influences, Lessons in Love has an overall calm coolness, as if Robinson has simply curled up on a rug with a dozen young women to tell her story, an important story, as honestly as she can.
Four of Five Stars
gPod Picks: "Keep Tryin'," "Wishing You Were Here," "I'm Gonna Make It."
Review by Bob Marovich of The Black Gospel Blog