By Bob Marovich for The Black Gospel Blog.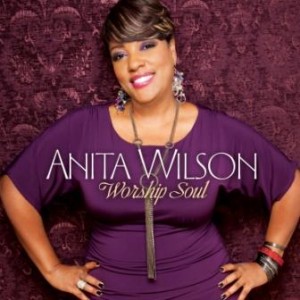 On April 3, Anita Wilson released her debut solo album, Worship Soul (EMI Gospel). It currently occupies the number 15 position on Billboard's Top Gospel Albums chart.
The gospel songstress talked with TBGB about the album and her gospel music journey thus far, which is as much a study in good singing as in good industry networking.
Anita Wilson grew up a "PK" in East St. Louis, Illinois. Her father was the pastor of Friendship Baptist Church. It was in front of the Friendship congregation that, as a child, Wilson sang her first public solo: "When All God's Children Get Together."
"The response was good," she laughed. "I even did a little high note at the end!"
Wilson always wanted to go into music. Even during her early teens, when for a brief time she reconsidered her life's aspiration, music "was always there."
She explained. "I had a decent voice but I was dead-faced when I sang, totally unenthused. When I went to Lincoln Senior High School in East St. Louis, I joined the jazz band. Mr. Carter was the band director, my brother was the keyboardist, and the band had vocalists that sang with them. That's where my love for performing and singing was re-sparked, and where I began to develop my stage presence. I still apply those lessons today."
Wilson's brother, Fred Wilson, Sr., moved to Chicago in 1996 to attend Moody Bible Institute and decided to remain in the city. He worked in the music department of Mars Hill Missionary Baptist Church on the city's far West Side and married the pastor's daughter, Marcie Stowers [Small World Dept.: TBGB founder Bob Marovich's late wife, Patricia, was Marcie's high school music teacher].
Pastor Fred and Lady Marcie organized a church called Temple of Glory International, and had a singing group called Elements of Praise. When Wilson participated on the group's 2002 recording, she met VaShawn Mitchell.  Mitchell was doing some writing and producing on the project.
Mitchell asked Wilson to do some background on his Believe in Your Dreams (2004). Wilson remembered: "Donald Lawrence was at that recording because he taught us a song for the project. VaShawn asked me to lead a little bit of a worship song called 'Lost in His Presence,' and a few days later, he called me and said, 'Hey, somebody wants your number.' I thought VaShawn was trying to hook me up! I said, 'Who? Who wants my number?' He said, 'No, girl, Donald Lawrence heard you and he really liked what he heard. He wants to be in contact with you.'"
At the time, Lawrence participated in an annual Mother's Day Brunch at a downtown hotel. He invited Anita to appear at the event with him. She figured that was where her association with Lawrence would begin and end, "but he called me when he was handpicking singers for Donald Lawrence & Company. I began to record with him on the I Speak Life project and did some studio work for the finale of the Tri-City Project. On The Law of Confession, I lead 'Happy Being Me,' and on his latest project, I'm leading a song called 'Second Wind.'"
But despite her newfound experience as a member of Lawrence's singing group, Wilson had doubts about recording her own project. She tells it: "You sing a good solo in church, and the mothers at church say, 'Girl, you need to record!' But I'm not one to believe my own hype.
"One day, I was thinking that I wasn't trying to get people to like me. I wasn't trying to sell millions of records. I thought I'll just let somebody else do that. And God so clearly said to me, 'Oh, if you don't want to sell millions of records, you don't want to sell any, huh?' I thought, 'God just checked me!' Then I heard him say, 'What if I just want you to sell about 120-some records over on 87th and Cottage [Grove]?' I was like, 'Okay, God!'
"That conversation helped me put in perspective what was in my heart anyway. I'm not trying to become a star or become famous. I just want to do what I do and make God proud. I want to do it for the purity of it, not for the fame and fortune. From there, I started writing songs and putting my plan together."
About the same time Wilson met Lawrence she also met Rick Robinson. Robinson produced Worship Soul. "Rick and I started planning the project in 2009," she said. "I didn't see a need to rush. I wrote some of the songs, Rick wrote others, and we wrote some together. We covered a song by James Cleveland, 'Jesus Will,' and a song by James Taylor, 'Shower the People.' We came up with the sound of Worship Soul and here we are today!"
Worship Soul was recorded at Chicago's historic Fellowship M.B. Church, where Wilson is a worship leader. The singer calls "Speechless," the current single, "a slow jam to God."
"It's basically a love song to God, to express how much He means to us when words are inadequate. We lift our hands and we do so many different things, but it still doesn't seem good enough because of how good God has been to us. It helps the listener to express deep feelings they are not able to express."
The album title sounds like it could be a subgenre of gospel.
"It is in its own lane," Wilson explained. "When you set out to do music, you are almost forced to describe it. It's hard if you have a unique sound. I have a laidback style, but I didn't want to do 'ear candy.' I wanted to marry the sounds of my influences: from the Winans, Clarks and Hawkins' to Aretha Franklin, Chaka Khan, and Gladys Knight, as well as Ella Fitzgerald and Sarah Vaughan."
Wilson added: "[Worship Soul] has a soul edge, but it's the heart of worship from beginning to end. It leads you to the presence of God."
At #15 nationally, Worship Soul has, I suspect, outperformed the prediction of "120-some records at 87th and Cottage."
For more information, visit http://www.emigospel.com/.