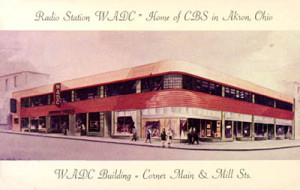 Article by Colette M. Jenkins
Akron Beacon Journal religion writer
Published on Friday, Jun 20, 2008
Annie W. Robinson declared "if Jesus can't fix it, nobody can," every Sunday morning for more than four decades across local radio airwaves.
Her voice was silenced on Tuesday, after a short battle with cancer, at Akron General Medical Center. The Akron Broadcasters Hall of Famer was 79.
"Ann Robinson was a strong tower in the community and in the churches. She reached beyond the Akron community with her radio program, which was her Christian outreach of the gospel message through gospel songs," said the Rev. Samuel Johnson, senior pastor of New Trinity Missionary Baptist Church, where Mrs. Robinson was a member. "She was just an all-around good person and she was an inspiration to countless people, including me."
Dubbed the "Gospel Queen," Mrs. Robinson started hosting her radio program Gospel Time in 1964 on 1350-AM [when the now WARF sports radio station was WADC, sponsored by the Automobile Dealers Co.]. Her show was a Sunday morning mainstay through the station's format transitions from automotive to country to urban contemporary to sports.
WARF Program Director Keith Kennedy said it would be difficult to find a family in the Greater Akron black church community that hasn't listened to her gospel music show.
"I don't know too many people who didn't start their Sunday mornings with her," Kennedy said. "You wouldn't believe the number of people who have been calling in and saying they listened to the show as a child and now they're sharing the show with their children. She really bridged the gap between generations in families."
Kennedy said Mrs. Robinson did more than anyone in the area to promote gospel music and to keep people informed about the activities at local churches, from revivals to concerts. Because of her following, Kennedy said Mrs. Robinson was always able to maintain longtime sponsors.
On Sunday, the radio station is inviting listeners to call in [330-867-4907] from 8:30 to 10 a.m. to share their memories of Mrs. Robinson. The call-in is scheduled during the hours of Mrs. Robinson's Gospel Time program.
The Rev. Henry Dunn said he will miss hearing Mrs. Robinson's voice and her enthusiasm for sharing gospel music with her audience. Dunn hosts Road to Glory, a gospel music program that airs at 7:30 a.m. Sundays on WARF. He has been filling in for Mrs. Robinson during Gospel Time for the past two months.
"Ann was the kind of person who would help whomever she could," Dunn said. "Not only did she promote gospel music — particularly local gospel groups — and events, she was a community worker. She worked in church kitchens helping to feed those in need and she attended the very events she encouraged her audience to support."
Mrs. Robinson came to Akron as a child with her parents, the late Ernestine and James Curry Sr., from Alabama. She graduated from East High School and attended Hamilton Business College.
She retired from Goodyear Tire & Rubber Company in 1992, after 39 years of service. She was a lifetime member of the NAACP, a member of the Bethany Chapter of the Order of the Eastern Star, and a member of the Gospel Announcers Guild, a division of the Gospel Music Workshop of America.
In addition to being an integral part of the black church community, Mrs. Robinson served as the matriarch of her family. Her niece, Camille Carter, said her aunt was the person family members went to when they needed advice or spiritual guidance.
"She was always open and honest and she loved her family dearly. She was a wonderful cook. She loved to cook. She loved fishing and bowling, until her knees went bad," Carter said. "We are going to miss her presence at family gatherings. She was a very strong woman. Whenever we had a problem, we would call her and she was always there."
Mrs. Robinson is survived by a daughter, Cheryl Lopp; a granddaughter whom she raised, Annie Robinson; three brothers and two sisters.
A funeral service is at 1 p.m. Tuesday at Greater Bethel Baptist Church, 404 S. Arlington St. (***Note: Location has changed.***) Calling hours are 11 a.m. to 1 p.m. at Greater Bethel. Stewart & Calhoun Funeral Home is handling the arrangements.