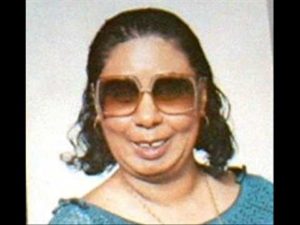 By Robert M. Marovich
JGM learned that Sister Rosetta Davis, a longtime member and beloved soloist of the Charles Fold Singers of Cincinnati, Ohio, passed away during the 2020 Christmas holiday.
A firebrand of a singer, Davis started her singing career at a young age. In the 1950s, she was billed as the Little Blind Girl on what may have been her first single, "There is a Fountain" / "I Know My Robe is Going to Fit Me Well," on Hilltop Records.
Davis's work with the Charles Fold Singers was robust, including solo turns on the choir's recordings and especially on its multi-volume partnership with the Reverend James Cleveland. It seemed as if no album was complete without at least one Davis solo. Among these were "Ye Must Be Born Again," "Fire," "I Just Can't Forget How He Brought Me Out," "He Never Left Me Alone," "Thank You Lord," "Let Me Lean on You," "I'm Encouraged," "Surely God is Able," "The Man Jesus," "Just When I Need Him," and on and on.
Like Mosie Burks of the Mississippi Mass Choir and Dianne Williams of the Cosmopolitan Church of Prayer Warriors, whenever Sis. Davis stepped up to the microphone, congregations cheered, knowing that a church-wrecking traditional song was about to commence. She never failed to deliver.
JGM sends its condolences to the Charles Fold Singers of yesterday and today on the loss of such a stalwart member of its group. The Heavenly Choir has gained a great lead vocalist.