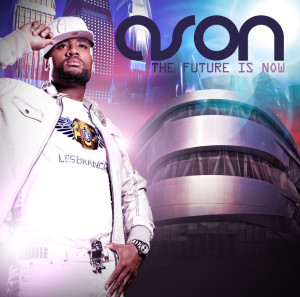 ASON
The Future is Now
SonnyWorld Music (2011)
www.bigsonny.com
By Bob Marovich for The Black Gospel Blog.
Having just released his fourth album, The Future is Now, gospel rapper ASON (aka Big Sonny, aka Thurman Custis) is getting his first real taste of national exposure. As he told TBGB during our interview earlier this month, he took the time needed to get the project just right.
It shows. The Future is Now is a fine vehicle to provide ASON with broader reach. The production and beats are strong, and the selections that are reinforced by melodies are the most compelling. Zesty soprano Christy Love deserves second billing for her ripostes to ASON's raps on various selections. Her interjections alone add a star to the CD.
ASON's measured rhymes are not at all hard to comprehend. His street vernacular varies from rough-edged, as on "Get On My Back," to whimsical, as on "I'm a Ryda," but nobody can say he's not genuine. Imagine Mr. Del's honest-to-God verse backed by Trip Lee's approachable hip hop tunefulness, and you have a good indication of The Future is Now.
The lead single, "Lay Them Down," is the album's strongest selection, though from a lyrical standpoint, "Gotta Say Thank You" is the most dramatic and provocative. On this track, ASON uses vignettes to rap about divine deliverance from domestic abuse, the needless loss that violence produces, and when life attempts to block the pathway to success. To this point, "Gotta Say Thank You" underscores ASON's personal commitment to keeping kids from dropping out of high school.
The message of The Future is Now is uncomplicated: life is short, your plans can change, but if you hold onto the one true God for help, you will be okay because He has your back. And as God's sons and daughters, we're down here living for a "well done" at the end of our life. Can I get an amen?
Four of Five Stars
Picks: "Lay Them Down," "Gotta Say Thank You."