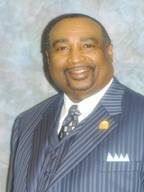 From the Gospel Music Workshop of America:
Office of the Executive Vice Chairman
Al Hobbs
I have just learned of the passing of our beloved board member, Bishop Charles Craig of Detroit, MI, who served the GMWA faithfully as the Vice Chair of the Security, Nurses, and Ushers.
In conversation with Convention Manager Mark Smith, he confirmed that Bishop Craig passed of a massive heart attack this morning at a Detroit Hospital near his home.
On Behalf of Chairman Jamison, the GMWA Board of Directors and staff, I ask that every member and those across the Gospel community who view this information, lift in prayer Bishop's wife, Wanda Craig, His beloved brother, James Linsey Craig, his family and the members of Craig Memorial Tabernacle where he was Pastor.
From Tammy Taylor:
Home Going Services for Bishop Charles Craig
Friday, July 11, 2008 @ 7pm
Tribute Musical
Craig Memorial Tabernacle
14201 Puritan
Detroit, MI
Saturday, July 12, 2008 @ 10am
Home going Service
Second Ebenezer Church
4601 Dequindre Road
Detroit, Michigan 48212-1503 , (I-75 at East McNichols)
Bishop Elect Edgar L.Vann, Senior Pastor
ATTN: ALL choir members that sang with Detroit
Remembers, GMWA Detroit or Craig Memorial
please come out to rehearsal on:
Thursday, July 10, 2008 @ 7pm SHARP @ Craig
Memorial
Attire for Friday: Dress for Ministry
Attire for Saturday: White (ladies no pants please).
For Additional or subsequent information, please check www.gmwadetroit.org