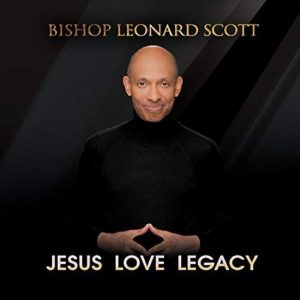 Bishop Leonard Scott
Jesus Love Legacy
Tyscot Records (release date: August 31, 2018)
www.tyscot.com
By Bob Marovich
At times, gospel artists start their own independent record company to promote their talent. At other times, it's the label owner who becomes the talent.
The latter applies to Professor James Roberson of JDI Records and to Bishop Leonard Scott of Tyscot Records. Scott has stepped from behind the executive desk (and the dentist's chair) to become the face and one of the voices of the Indianapolis, Indiana-based record company.
On Scott's latest project, Jesus Love Legacy, he surrounds himself with top-shelf singers, songwriters, and musicians, many culled from the Tyscot roster.
Rance Allen is among the Tyscot artists contributing to the project. He proffers his characteristic shouts and growls alongside an encouraging Kevin Vasser on "Power in the Name," while a team of smooth-singing BGVs that includes Faith Howard supports the duo.
Award-winning songwriters Tiffany McGhee (aka TIFF JOY), and Philip Feaster co-wrote many of the songs with Scott. This includes the radio-friendly opener, "Working in My Favor," a bouncy mid-tempo ode of gratitude to God that features vocals from Fred Hammond, Shirley Murdock, and Jeral V. Gray & New Direction. TIFF JOY solos on "Here I Am," a prayer-song about desiring discipleship.
"Lost without You" is an acoustic worship piece led by Anders Nordstrom's guitar, and "All Day Long" is a simple and up-tempo P&W song that blends elements of gospel, island beats and, if you can believe it, southern gospel quartet. Valencia Lacy & Unquenchable Worship supports the assembly on background vocals. It's a most unusual but infectious selection.
Scott sounds better here than he has on his previous albums. He wraps his vocals around gospel ballads cut in the P&W mold, though he is at is best rendering standard hymns such as "I Surrender All" and "Draw Me Nearer," with just Feaster accompanying on piano.
Scott on vocals and Feaster on piano raise a new song, "It Is So," in the hymn style, though a version without Scott's lengthy sermonette would have made for a nice bonus track. Nevertheless, this CD is Bishop Scott's best personal project to date.
Four of Five Stars
Picks: "Working in My Favor," "Hymns"