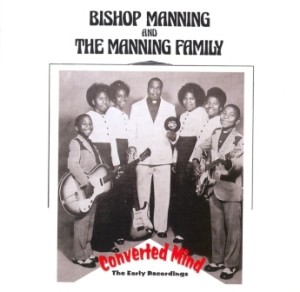 Bishop Manning and the Manning Family
Converted Mind – The Early Recordings
Big Legal Mess Records/Fat Possum Records (2010)
http://www.biglegalmessrecords.com/
Reviewed by Bob Marovich for The Black Gospel Blog.
On "If You Miss Me," Bishop Dready Manning delivers his life testimony while firing off sparkling rockabilly licks from his electric guitar. Between riffs, he quips, "I used to do this all night long for the devil/I used to have white and colored shaking a leg." But, he concludes, he is saved now and plays only for the Lord.
The converted Bishop Manning and the Manning Family made many recordings in the 1970s for labels such as Memorial and Hoyt Sullvan's Su-Ann. They even released their own discs on homemade labels such as Peatock and Nashbrand, blatant but tongue-in-cheek ripoffs of then-popular labels Peacock and Nashboro. Most of the recordings have slipped into undeserved obscurity.
Coming to the rescue, John Glassburner and Bruce Watson have lovingly gathered the family's history and early recorded output from their own archives, from the Manning's collection, and from those of fellow gospel collectors and historians. The result is the 28-track CD Converted Mind.
One could argue that Manning's lyricism and performance style make him one of the last guitar evangelists. On their records and presumably in live performance, Manning, his wife Marie and their children ruminated about what was wrong with the world. Nothing escaped their scope: troubled race relations, two-faced church folk, wayfaring preachers, loose ways among men and women, and even uncomely dress and hairstyles. In fact, the group's "What the People Gonna Do," reprised three times on the set with as many titles and from as many labels, is the ensemble's quintessential response to life's problems.
Their response is to receive the Lord and be saved. Bishop learned that lesson well: once a blues musician and a lover of whiskey and clubs, Manning gave it all to the Lord after being miraculously cured of an affliction that baffled his doctors. Using music henceforward as a force for good, Manning organized his wife Marie and young children into a singing group, based in their hometown of Roanoke Rapids, North Carolina.
The first track on the collection, "Manning Family Theme Song," is the group's calling card. They sing out their telephone number and address…"and if you write us, we will come."
Converted Mind features Bishop Manning's barrelhouse rockabilly guitar and bluesy harmonica playing. His chugging harp is especially notable on "The Gospel Train," where he channels Little Walter in propelling the train down the track. "The Jealous Men and the Jealous Women" contains echoes of 1920s sermon recordings. Overall, the musicianship and genuine singing give the collection what the liner notes call a "down home sincerity."
While Bishop Manning sings lead on the majority of the tracks, his wife Marie's hard-charging vocals on a few of them are among the CD's most interesting selections, especially "I Believe I'll Run On," one of the two bonus tracks.
Gospel researcher and author Alan Young, who wrote, among other volumes, the biography of the Pilgrim Jubilees, composed the fascinating and well illustrated liner notes, which detail the life and times of a man who wanted to make sure others didn't make the same mistakes he had.
During a time when gospel music is moving along speedily on the interstate, it is soul-satisfying to hear collections like Converted Mind explore the genre's well-traveled blue highways.
Four of Five Stars
Picks: "The Gospel Train," "If You Miss Me," "I Believe I'll Run On."