Tune to 88.7 WLUW Chicago Sunday morning, March 2 from 3:00 to 7:30 a.m. Central Time for this month's live broadcast of "Gospel Memories": the soundtrack of That Old Time Religion.
Not in Chicago? No problem. Go to http://www.wluw.org/, click the Listen Live button, and enjoy "Gospel Memories" from wherever you are!
Highlights of the March 2 Broadcast:
Benediction: "The Lord's Prayer" – First Church of Deliverance Choir
A celebration of the 100th anniversary of the birth of Rev. Clarence H. Cobbs, founder and pastor of Chicago's historic First Church of Deliverance. He was born Feb. 29, 1908 in Memphis.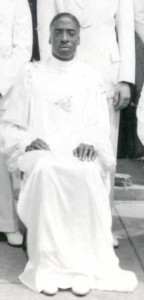 A music enthusiast, Rev. Cobbs maintained a music department to rival those of other churches. Among the many gospel pioneers who passed through First Deliverance were Sallie Martin, Kenneth Morris, Ralph GoodPasteur, R.L. Knowles, Julia Mae Kennedy, Irma Gwynn, Prof. L. Stanley Davis, Myrtle Jackson, Elizabeth Hall, Rev. Jerry Goodloe, Rev. Lucius Hall…the choir even sang with Nat King Cole! The church had its own music publishing house, and its Sunday evening radio broadcast – among the first – is the stuff of legend. Bishop Otto Houston is pastor of First Deliverance today.
Words and Music at 5:00 a.m.: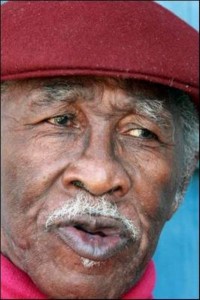 Marc Lindy, producer and host of CFRO Vancouver's "Gospel Train" radio program interviews legendary quartet singer Arthur Lee "Bob" Beatty. Now in his nineties, Beatty spent decades singing in some of the top gospel quartets, including membership in the Heavenly Gospel Singers, Violinaires, Trumpets of Joy, and the Four Gospel Knights. Needless to say, Beatty is a gospel music treasure.
Cast your vote to induct Bob Beatty in the International Gospel Music Hall of Fame and Museum at: http://www.votebobbeatty.com/. Hurry — balloting ends March 7!
Photo above by Mike Bonner – Spartanburg Herald-Journal
Words and Music at 6:00 a.m.: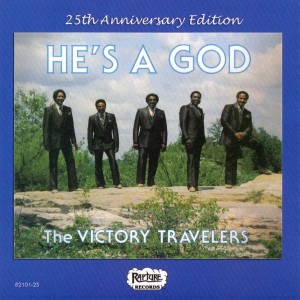 Bob Marovich interviews Deacon Reuben Burton of the Victory Travelers. Deacon Burton will talk about the origins of the Victory Travelers, the quartet's early recordings, and the 25th anniversary reissue of He's a God, an LP they cut for Rapture Records in 1983.
From the Vault:
Golden Eagle Gospel Singers
Professor Hull's Anthems of Joy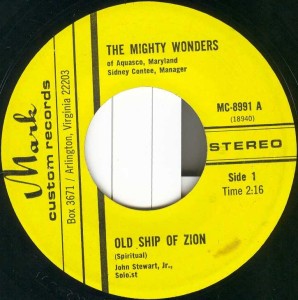 The Mighty Wonders of Aquasco, MD – hear both sides of the 45 rpm recording that was showcased during the National Public Radio "Fresh Air" interview of Professor Robert Darden and the Black Gospel Music Restoration Project at Baylor University.
Plus recordings by pioneers and legends such as:
Dewey Young and the Flying Clouds
Miami Ziontones
Anna Crockett Ford
Staple Singers
Evelyn Gay
Brooklyn All-Stars
Prophet Jones
Amazing Farmer Singers
Rance Allen Group
(Daddy) Grace Singers
CBS Trumpeteers
Swan Silvertones
Rev. Columbus Mann (early Tamla/Motown gospel track)
Mattie Moss Clark and the Southwest Michigan State Choir
Blendwrights
Pentecostal Mass Choir of Chicago
…and much more!
So tune in and turn on to "Gospel Memories"…for the music that moves you and makes you move.
Special thanks to Marvin Lyles of Gary, Indiana's WGVE 88.7 FM "Gospel Sunrise" and Pastor Cornell Lewis of WZHR Inspiration 1400 AM in Florida's Tampa Bay area for allowing "Gospel Memories" and me into their program schedules during the past month.