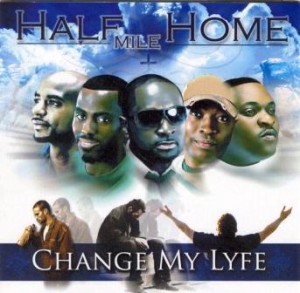 Half Mile Home
Change My Lyfe
God Made Millionairze Ent./IMG Recordings/
Bungalo Records/Universal Music Group
www.HalfMileHome.com
On "Testimony," Akron, Ohio's Half Mile Home sings, "Can't nobody tell my testimony for me/How somebody else gonna try to tell my story?"
This could be the mission statement of Half Mile Home's distinctive sophomore release, Change My Lyfe. The group uses every technological device at its disposal to create an imaginative, power-packed, high-energy, techno-infused sonic firecracker of a record with memorable choruses and punched-up beats.
The sixteen cuts on Change My Lyfe provide unpretentious everyday spirituality, with praise, worship, thanksgiving, repentance and redemption among the chief subjects.
The quintet is comprised of Deaken (brother of opera star Lawrence Brownless), Lil Bull (aka Buttons), Q, Ty-Traxx and Weezie. The first iteration of the ensemble entered the music industry back in the day as R&B group 1-900 and signed with the legendary Solar Records just before the label went paws up. "Unfulfilled promises" and missed opportunities dogged the group for years, but in 2004, the renamed and reconstituted Half Mile Home embraced its gospel roots (most if not all are pastor's kids) and released The Movement (Malaco). The group hasn't looked back since.
Examples of the group's sonic sound are "Survivor" and the infectious current single, "This Far." "Even" celebrates unconditional love in a retro soul mood. "Won't Let Him Go" blends urban R&B with a straight-ahead, churchy quartet strut.
Half Mile Home is among a number of post-modern gospel groups reaching a new generation of believers by putting extra cool factor in the mix.
Four of Five Stars
gPod Picks: "This Far," "Survivor," "Won't Let Him Go."
Review by Bob Marovich of The Black Gospel Blog