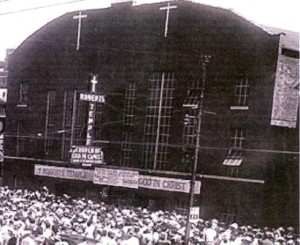 From a press release on the City of Chicago website, 3/30/07:
Mayor Richard M. Daley today applauded the Chicago City Council for passing an ordinance giving official landmark status to the Roberts Temple Church of God in Christ building, the site of the 1955 visitation for Emmett Till.
For four days in September 1955, Roberts Temple, 4021 S. State St., was the center of the civil-rights movement. Till, a Chicago teenager, was lynched that August while visiting relatives in Mississippi. His murder and his mother's decision on an open-casket funeral called national attention to the plight of African-Americans in shockingly graphic detail.
"The events that took place in this building showed the world the grave injustices and inhuman treatment to which African-Americans were subjected in the 1950's and demonstrated the need for civil-rights legislation," said Mayor Daley.
Built in 1922, it was the first church of its denomination to be established in Chicago and was considered the "Mother Church" in northern Illinois. [Editor's Note: Before it was renamed Roberts Temple, the church was known as "Fortieth" because of its location at 40th and State Streets].
The original building was designed by Chicago architect Edward G. McClellan with simple ornamentation and red brick. By 1927, the building was expanded to include a large second-floor sanctuary.
In 1953, the church was renamed after its founder, Bishop William Roberts. In 1992, the building was refronted with tan brick and the sanctuary was remodeled.
****
The Roberts Temple Landmark Celebration will be held on Sunday, April 15, 2007 with a reception at 2:00 p.m. and a service at 4:00 p.m.
Elder Mack C. Mason, author of Saints in the Land of Lincoln and Make Room for the Holy Ghost, will serve as Master of Ceremonies.