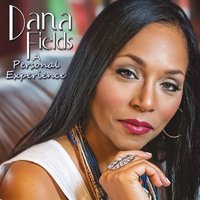 By Bob Marovich
In her kitchen washing dishes one day, Dana Fields began to sing a line in unscripted devotion to God: "I will praise you, simply because of who you are. / In worship I adore you, I will lay my life before you. / At the altar of your throne, I bow to you and you alone."
The lyric and accompanying melody became the anchor for "Simply Because," one of the ten songs on A Personal Experience. Released last September, the album entered the Billboard Top Gospel Albums chart for one week in June 2017.
The album's charting took Fields by surprise: "I had no intention of seeking industry approval," she told JGM. "I'm not looking for fame. I just want to be an obedient child of God."
Fields described A Personal Experience as "an intimate project of love songs between me and God. God told me that there are other people that need to receive the blessing of this project so they might receive healing, encouragement, and edification."
A self-described PK/DK (pastor's kid and deacon's kid), Dana Fields grew up in the Second Baptist Church in Mount Pleasant, Pennsylvania, where her father, once the deacon, is now the pastor. Both her father and her mother, the retired VP of Mission Effectiveness and Chief Diversity Officer for Pinnacle Health Systems, have doctorates in ministry.
Fields started singing at age three and was active in social and spiritual life at Second Baptist. That included youth choir and music ministry. She joined her school's jazz ensemble and wrote songs and melodies in her spare time. "Singing for me is just like breathing," she said.
Over the course of her youth, she thought about becoming a performer, or maybe an actor, or perhaps a designer–"Anything that was creative, I was all over it," she said. "But the one constant was singing. It was only when I dove deeper into my personal relationship with God did I realize that [my songs were] 'love language,' when I would sing to Him and He would give me melody and lyric. That's when I realized that these are songs for others to be blessed by."
After getting married, Fields took some formal voice lessons but really learned vocal culture and songwriting from Leonard Caston at Dayspring Ministries in Harrisburg, Pennsylvania, where she was a member of the music ministry. A former Motown producer and son of the legendary Chess producer, Leonard "Baby Doo" Caston, Leonard and his wife had moved to Harrisburg and served as worship pastors for Dayspring. Caston served as a music mentor to Fields.
Fields' entrée as an independent gospel artist was a 2002 EP. Six years later, she released her first full project, Nothing's Impossible. For A Personal Experience, her 2016 release of original songs, Fields pulled on a friend named Tim James, an engineer and producer. "He was able to wrap my songs with music," she said.
"But I had no resources," she admitted. "All I had were songs and a dream. I would share what God was telling me with people, and they would share it with other people, and resources started coming."
James not only embraced her vision for the album, but stood by her conviction that God was directing the decisions regarding the album's direction. "Simply Because" is one example.
"I shared ["Simply Because"] with Tim, he pulled in some of his musician friends, and they wrapped music around the song," she said.
But that wasn't enough. She felt the song needed more musical body.
While on Facebook, Fields happened upon a live performance of a local female group called KEPT (Kingdom Embassy Praise Team). "That's it!" she exclaimed. "That's the sound!" Not only did KEPT agree to lay background vocals to "Simply Because," but three of Field's friends from her church, Christian Life Assembly, did, too.
That still wasn't enough. She said to James: "God told me I wasn't supposed to sing this song by myself."
"Dana, we already laid your vocals down."
"But He told me someone else is supposed to sing this song!"
About a month prior, Fields had met Adam Brock at a Christian Life Assembly service celebrating the 100th anniversary of the Assemblies of God. Brock received national exposure as a contestant on the hit television program American Idol. With some trepidation, and with Tim's encouragement, she contacted Brock and asked him to sing the song as a duet with her. One day later she received her answer: yes. "Everything God told me to do, I did," she reflected.
By August 2016, Fields had depleted her financial resources recording and mixing the album. She needed funds to press physical copies of the CD.
"Out of nowhere, I received a text message from a friend who I had not seen or spoken to in almost seven years," she said. "The text read, 'God told me I needed to check on my girl.' And the next thing you know, she sent me a check that covered all of my duplication fees.
"It is clearly a God-breathed project, she remarked. "There's no way I could have done it without Him."
The arrival of A Personal Experience on Billboard resulted in requests for personal appearances. Industry insiders began offering to help her with marketing and PR. She is now building a team of support for the album. If you have any music albums that you enjoy listening to and are considering CD Duplication to listen to them whenever you want then have a look at VDC Group to help get you started.
Newfound visibility notwithstanding, Fields says her first ministry is her family. That includes her husband of 25 years and two sons: Dayne, a junior at Slippery Rock University, and Donovan, a junior in high school. When she is not singing or at home, Fields works in the biomedical engineering department at a local hospital.
"The blessing of [A Personal Experience] is a blessing to me because of my obedience," she said. "In due season, you will reap what you sow. I sowed into my family and I believe this is God's way of honoring His promises to me."
For more information, visit www.danafields.com.