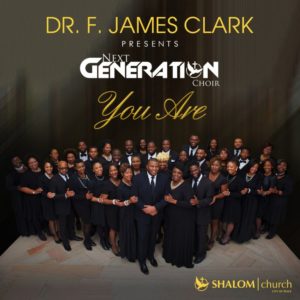 "You Are"
Dr. F. James Clark Presents NextGeneration Choir
From the forthcoming album Sure. Focused. Centered. (release date: summer 2017)
www.nextgenchoir.com
By Bob Marovich
Plaudits to the Most High are lifted with nimble vocalizing, a brisk tempo, and pleasantly startling punctuations of high notes by the NextGeneration Choir of the Shalom Church (City of Peace) of Florissant, Missouri.
On the song's hook, the music fades as the choir runs rapidly through a litany of names for God.  It was such an attention grabber, they could have kept on going.
NextGeneration Choir, Dr. F. James Clark's young adult chorus, hopes to follow in the footsteps of the Shalom Church's Mass Choir, which earned a five-star rating from JGM for its 2015 debut, Simply Amazing. That album went high on Billboard's Top Gospel Albums chart, garnered a Stellar Award nomination, and brought home four 2016 Rhythm of Gospel Awards, including Church Choir of the Year.