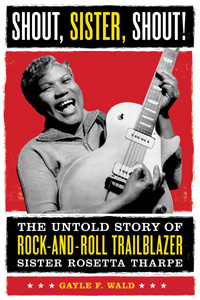 Shout, Sister, Shout!
The Untold Story of Rock-And-Roll Trailblazer Sister Rosetta Tharpe
Gayle F. Wald
Beacon Press 2007
www.shoutsistershout.net
Despite Sister Rosetta Tharpe's celebrated position as a gospel music pioneer, no author has taken on the role of her biographer until now.
Thanks to Gayle Wald, Professor of English at George Washington University, the world can now read about the "swinger of spirituals" in greater detail than ever before. Shout, Sister, Shout! is the definitive portrait of Sister Rosetta Tharpe, a woman who emerged from rural poverty and the Pentecostal church to alter the sound and venue options of African American sacred folk music for all time. In the process, she inspired legions of soon-to-be rock-and-rollers.
It's all here: Sister Tharpe's journey from her birthplace of Cotton Plant, Arkansas to the frenetic Black Metropolis of Chicago's south side, to Miami and then to the Big Apple; her debut on the stages of the Cotton Club and Café Society; the acclaim she received as a participant in John Hammond's legendary "From Spirituals to Swing" concert; her Decca recordings and famed 1951 wedding ceremony, viewed by 20,000 fans; to her later years when the live audience shrank to pathetic proportions.
An enjoyable read, Shout, Sister, Shout! is told with a journalist's eyes and ears for the fascinating and the academic's attention to thoroughness. I especially admire Wald for having the courage to share a three-dimensional version of Sister Tharpe – a person with a multi-faceted lust for life – rather than dilute the complex struggles of an artist who lived in a time when being black and a woman were already two unfortunate strikes against her.
Wald also weaves into the narrative the stories of those who worked with and for Sister Tharpe, including Marie Knight, the Rosettes, Harmonizing Four, and of course Tharpe's evangelist mother and ever-present companion, Katie Bell Nubin. The story makes vivid the rough-and-tumble days of gospel music's Golden Era (1945-65).
The book includes many unforgettable vignettes. For example, you'll read about Sister Tharpe as a child singing for loose change at Chicago's famed Maxwell Street Market; the ugliness of wealthy whites sitting in the balcony of Miami Temple COGIC and tossing money down at the Saints during their worship service; and the staged celebration of the singer's third marriage, when finding the groom wasn't about securing Mr. Right, it was about finding Mr. Good Enough. It's a story that all aspiring musicians should become familiar with as they plan their own journey from obscurity to omnipresence.
Shout, Sister, Shout! is compulsory reading not only for mavens of the gospel sound, but also for rock aficionados who seek the genesis of rock guitar as displayed in the axe-wielding of Chuck Berry, the British Invasion groups, and AC/DC's Angus Young. Perhaps Wald's book will even inspire the Rock and Roll Hall of Fame to induct Sister Rosetta Tharpe into the legion of artists already so honored, who learned their craft from hearing her recordings and watching her performances. Mahalia's in the Hall of Fame, and God Bless Mahalia, she deserves the honor but Tharpe could rock circles around her. Ah, one can only hope.