[Ed. Note: Some of you may remember the "Gospel" website at www.island.net. From the late '90s to 2000, I contributed reviews and other content for the site. My reviews were of recordings I believed essential for building the ultimate gospel music collection.
When the "Gospel" site was discontinued two or three years ago, all of my gospel music reviews went with it. Thankfully, I have hard copies of most of the original essays and will edit, update, and re-post them as "Flashbacks" whenever I can.
Here is the first of more than 100 such recommendations I posted on "Gospel." This essay was posted in November 1996. Enjoy!]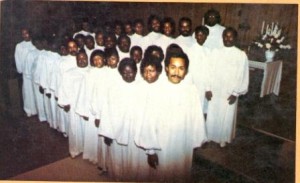 "Everytime I Feel the Spirit"
Dr. Charles G. Hayes & the Cosmopolitan Church of Prayer Choir
on the double LP Everytime I Feel the Spirit
Savoy Records 1982
This recording is where gospel music began for me. Tuning into a Chicago radio station to hear the Cosmopolitan Church of Prayer's weekly radio broadcast one Sunday evening in 1983, I heard this very arrangement of the spiritual performed live by the choir, now nicknamed the "Warriors." It was as if my heart and breath stopped for six minutes and 40 seconds as the Warriors presented this song with the power and intensity of a train bearing down at full throttle.
This recording, my first taste of gospel music, remains my all-time favorite.
A highlight of the Warriors' "Everytime I Feel the Spirit" is the spotlight that director Allen Cathey shines on the men's section. The men take a "group solo" during the song's drive. This "group solo" technique appears in other Warriors performances and recordings, including "Work On, Pray On, Time Ain't Long" from If Anybody Can, God Can (Muscle Shoals Sound 1990).
Although Cosmo's organist Shelby Wills is credited with the arrangement, it borrows liberally from a 1964 Elektra recording of "Everytime I Feel the Spirit" performed by Rev. William Morris O'Neil and the Harlem Tabernacle Choir. Nevertheless, Dr. Hayes and the Warriors' version is the longer and better of the two, demonstrating the versatility of the gospel choir. It also showcases why the Warriors are one of the best aggregations on the gospel highway: they combine the unrestrained fervor of traditional gospel with the attack and vocal calisthenics of the modern mass choir.
In other words, if you're not moved — or saved — by this recording, check your pulse.