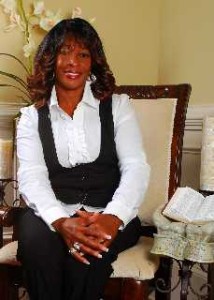 "Get Your Praise On"
Dr. Yvonne Cole
From a forthcoming April 2009 full-length CD
C&W Records 2008
www.myspace.com/drycole
Even before Edwin Hawkins and the Northern California State Youth Choir took the music world by storm – and by surprise – the Bay Area had a vibrant gospel music scene. Dr. Yvonne Cole of Oakland is yet another member of a rich Bay Area gospel music community.
Adopted mother of Platinum RnB artist and reality television star Keyshia ("Heaven Sent") Cole, Dr. Cole takes her turn at the microphone, delivering "Get Your Praise On" like a singing evangelist raised on a steady diet of Aretha Franklin records. An ensemble of skilled background singers serve as assenting congregation to Dr. Cole's call for praise as the antidote to any problem.
Dr. Cole is not a newcomer to the industry, having sung with the female quartet the Spiritual Specials as well as with Pastor Elijah Baker and the Stars of Joy. She now has her own record label (C&W) and looks to release her first full project in April 2009.
TBGB wants to know whether Keyshia will be singing on her mother's project….?