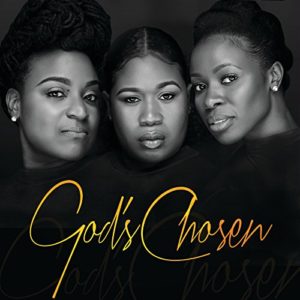 God's Chosen
God's Chosen
DREAM Records (release date: June 22, 2018)
www.GC3Music.com
By Bob Marovich
Zebrina Anderson, Nikeisha Whittier, and Sarah Benibo are God's Chosen (GC3), a trio designed to appeal to a multicultural Christian audience through its evocation of female gospel groups like Witness and Virtue as well as of megachurch praise teams.
Their latest release, a self-titled album, includes mostly new compositions written by the ladies and co-producer John Strandell (who cameos on "I Want You"). AyRon Lewis and Levi "Too" King also contribute their estimable production talents to the project.
Songs such as the strong opener "We're Ready," as well as "Glory" and "Let's Dance," welcome the spirit of worship in the house, while "Whatever It Takes" and "For Your Glory (I Surrender)" focus on the life-transforming benefits of discipleship. The blood song, "Redeemed," is a pop ballad with strong rock overtones. To a bubbly and brisk synth rhythm, "Even in the Valley" teaches that praise is not just for the joys in life; it is also important in the midst of life's storms. The ladies infuse rhythmic electronica into their arrangement of the classic evangelistic hymn "Love Lifted Me."
Three of the tracks were recorded live at Gateway Area Bible Fellowship Church in Cahokia, Illinois, a stones' throw from their hometown of St. Louis. "Whatever It Takes," from this live session, includes a brief sermonette on the blind faith of Abraham and how his story applies to contemporary society. The added energy that the live audience pulls from the group suggests that GC3's next album should be a live disc.
Meeting in high school, the ladies received their first public confirmation as a gospel trio in 2002 when they won the Six Flags Gospel Day Competition and earned a spot as opening act for Yolanda Adams. Essence.com called God's Chosen one of the artists to watch in 2014, and Jet featured the group in its April 2014 edition.
The group's more than fifteen years of experience is evident on this album. God's Chosen is comprised of talented singers and capable songwriters whose star continues to rise.
Four of Five Stars
Picks: "We're Ready," "For Your Glory (I Surrender)"