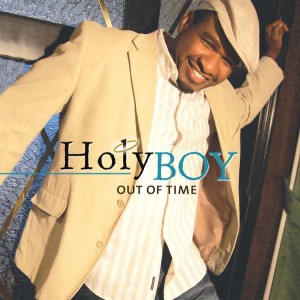 Holy Boy
Out of Time
Next Era Music Group/Universal Music Christian Group 2009
www.nexteramusic.com
An artist who not only sings about going to church but is so enthusiastic he "can't wait to get to church" has most definitely earned the title "Holy Boy."
On the upbeat "Church Tonight" from his debut CD Out of Time, Herbert Woods (aka Holy Boy or HB) sings with relish about the joys of the church experience. Not surprisingly, all of his songs reflect this inner delight. On the album, RnB and hip hop-inspired polyrhythmic songs share space with pop-like melodies, though there is one exception that we'll talk about later.
The opener, "Where the Praizers At," engages the audience right from the start with its bold, in-your-face rhythmic intensity. It even includes a litany of major cities "where the praizers at." "Whoa Whoa" has a similarly catchy hook guaranteed to get an audience singing along. "Happy" possesses a bubbly pop-like sound that matches its lyrical content.
Some of Holy Boy's songs are more atmospheric, such as his cover of popular singer-songwriter Carnell Murrell's "God Chaser," and Woods' own "We Need You Now." The latter is a praise and worship-flavored call for the Lord's help to guide schools, homes, employers and even the White House during this challenging time. Holy Boy wrote all of the songs but one: Murrell's "God Chasers." Like Murrell, Holy Boy is a featured songwriter on Vickie Mack Lataillade's popular Lilly Mack Sing-A-Long Series.
While the aforementioned "Church Tonight" is the current single, the title track also has radio potential. Its memorable, sing along hook is overlaid with a smooth RnB feel.
Here's the exception: the concluding piece and current video hit, "Hold On," is the most quintessentially gospel of all the songs on Out of Time. This contemporary gospel ballad finds Holy Boy accompanying himself on piano, improvising vocally over the melody like a seasoned veteran of the gospel highway. This performance – showstoppingly effective in its simplicity – demonstrates that Holy Boy has the chops to maintain a presence in mainstream gospel music when the current musical trends are a thing of the past.
Hailing from Mobile, Alabama, Holy Boy also wrote and performed "Jada's Song" for the upcoming motion picture Jada. Sounds like another triple threat is in the Lord's house!
Four of Five Stars