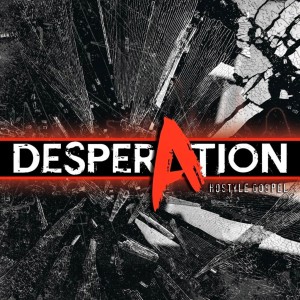 Hostyle Gospel
Desperation
(released August 13, 2013)
Emerging from a Central Illinois-based group called
The Elite M.O.C. (Men Of Christ), Hostyle
Gospel clarifies that its hostility is only a style of delivery. Indeed, on its third album, Desperation, the Christian hip hop ensemble employs militant metaphors and minimal but urgent beats to stomp out the devil by any means necessary.
The Jesus Hostyle Gospel serves is not the long-haired, sandal-wearing flower child of contemporary portraiture but a no-nonsense battle axe who loves the world and its people enough to help them mightily. His warriors are poised to assist by battling the devil in whatever guise he may assume. On "Monsters," for example, Hostyle Gospel and Lamorax confront the demons head on, declaring "In Jesus's name, I stop 'em." "That Life" calls out rappers who "blaspheme for the fame" and resort to illegal and unethical activity to become rich and famous.
The album is peppered with fist-pumping, pep rally style chants designed to fire up a crowd to join Hostyle Gospel in taking up the fight. In fact, the group doesn't lift as much as launch acclamations heavenward on "Praise." They are willing warriors declaring that "Jesus Christ is coming here to fight." The group encourages others to step up by shouting on "Turn it Up" that "if you're feeling unashamed, turn it up." They don't just mean the volume but the intensity and energy to restore the world.

Hostyle Gospel
A battery of guest artists, including Blessing, Lamorax, Chevatron-X, and Sene', join Hostyle Gospel on the album's dozen tracks.
Hostyle Gospel hails from Champaign, Illinois—a coincidence, as I was reviewing this project while passing Champaign en route to Chicago. TBGB reviewed their equally tough talking mixtape Five Star Generals in April 2011. It's not your grandmother's gospel music, but it seeks the same result.