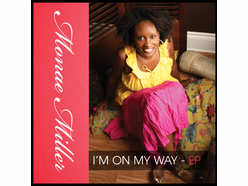 "I'm On My Way"
Monae Miller
From the EP I'm On My Way
www.monaemiller.com
Born in Wichita, Kansas and now living in Dallas, Texas, Monae Miller is a singer/songwriter and classically-trained musician who has served as a church music minister.
"I'm On My Way" is the first single from her debut EP of the same title. It is an onomatopoeic mid-tempo bouncer perfectly suited to her straight-forward alto voice. She interpolates a few measures from the Biblical Gospel Singers' classic "I Come to Praise Him" towards the end, which fits hand-in-glove with the song's upbeat mood.
Monae may be singing, "I'm walking up the King's highway," but in your mind's eye, she's hopping and skipping.