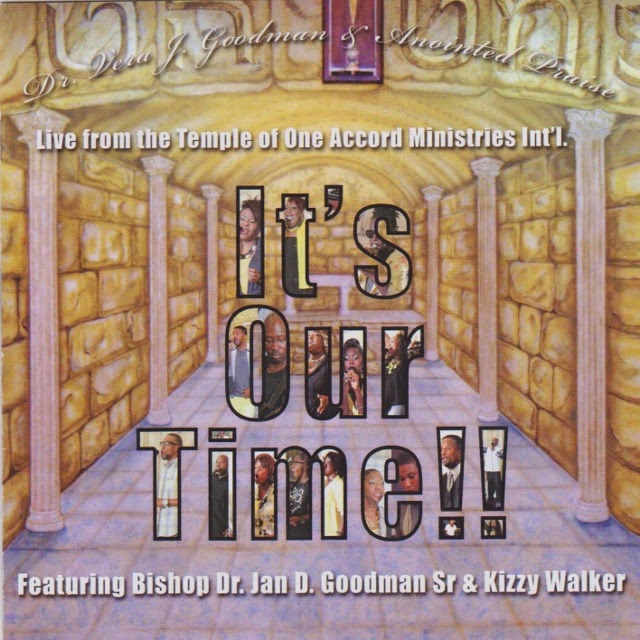 Dr. Vera J. Goodman & Anointed Praise
It's Our Time
First Lady Productions (2014)
Independently produced church choir albums have been around since at least the early 1960s, and the results have been as mixed as the choirs recorded.
It's Our Time, a self-produced live recording by Jacksonville, Florida's Temple of One Accord Ministries, International, is an example of how a DIY album can be done very well.
One of the album's stars is songwriter and keyboardist Elder Jonathan Smith.
Smith
penned most of the thirteen songs, two of which are the gospel/inspirational equivalent of jam band arrangements.
"I Believe," is the album's standout and was TBGB's Pick of the Week.
To a gentle but insistent beat, the song builds from a belief in God to an extended anthem about rising above life's obstacles.
"The Temple" is an eight-plus minute paean to perseverance that dazzles with inventive chord changes for the choir to navigate.
Speaking of the choir, the tight, sweet, and melodic harmonies of Anointed Praise brighten each song, particularly "Glory, Honor and Praise" and the brisk opener, "I'm Doin' Me."
Anointed Praise also gospelizes two pop songs. "Don't Stop the Praise" is based on Yarborough and Peoples' 1980 R&B hit, "Don't Stop the Music." "Love Song" interpolates Stevie Wonder's "Ribbon in the Sky," and the hook line becomes "You're living in the sky for me." A little forced, perhaps, but the selection is lovingly sung and once again, the harmonies are sweet enough to eat.
The choir's leader, Dr. Vera J. Goodman, is first lady of the church, which opened in 2007 and is pastored by Bishop Dr. Jan D. Goodman. Anointed Praise's deft vocals, the album's quality production, and imaginative music make It's Our Time an exceptional church project.
Picks: "I Believe," "Glory, Honor and Praise."