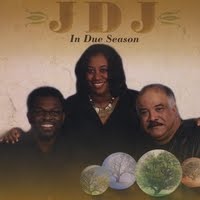 JDJ
In Due Season
Janayra Music Group 2009
www.cdbaby.com/cd/jdjtunes
Betcha didn't know there are gospel musicians in Bermuda.
In fact, the island that sits approximately 1,100 miles northeast of Miami, Florida fosters a thriving music industry. When it comes to gospel, John Duncan and the husband-and-wife team of Jackie and Darryl Simons are in the thick of it.
Jackie, Darryl and John's sophomore CD, In Due Season, brings them together as "JDJ" on a dozen songs. The group's style comes straight from the Hawkins/Smallwood contemporary school of crisp, tight, swooping harmonies, though they do pump out a couple of island-flavored tracks. The latter – including the Carib-urban "I've Come to Give You Praise" and the spiritual, "Jacob's Ladder" – feature Bermudian male vocalist Septimus. Originally from Jamaica, Septimus settled in Bermuda to work as a chef, began cultivating his musical gifts, and is now an award-winning sacred artist and evangelist in the Bethlehem Reform Church of God. His accented rhymes provide the album with its moments of rootsiness.
"Nothing Shall Separate Me" is the highlight of In Due Season, featuring a shouting lead by Jackie Simons. Darryl Simons provides outstanding lead vocals on "Thank You for the Mothers" and the praise and worship ballad "Wilderness." "He's an On Time God" reminds me of Kirk Franklin's "Why We Sing" and is an easy piece to teach a church choir. A team of strong musicians supports the singers throughout. Gospel music is truly a global phenomenon.
Three of Five Stars
gPod Picks: "Nothing Shall Separate Me"