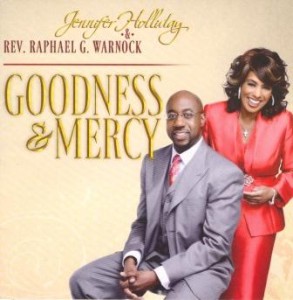 Jennifer Holliday & Rev. Raphael G. Warnock
Goodness & Mercy
Euphonic Records (2011)
www.cdbaby.com/cd/jenniferhollidayandrevra
By Bob Marovich for The Black Gospel Blog.
Atlanta's Ebenezer Baptist Church is preserved in the amber of history for having once been blessed with Rev. Martin Luther King, Sr. and Rev. Dr. Martin Luther King, Jr. as co-pastors. The philosophy of non-violence rang out from the church's storied pulpit and forever altered the course of world events.
Since 2005, historic Ebenezer has been pastored by Rev. Dr. Raphael G. Warnock, once assistant pastor at Abyssinian Baptist in Harlem, an equally important church in terms of promoting civil rights and social justice.
Ebenezer gained a new member recently when actress and Grammy Award-winner Jennifer Holliday, who created and portrayed the role of Effie White ("And I'm Telling You I'm Not Going") in the original production of Dreamgirls, heard Warnock on the church's weekly TV broadcast. "I could feel his realness right through the television!" quipped Holliday.
Later, the singer had the idea to blend thematically relevant songs with snippets of Warnock's preaching. The product is Goodness & Mercy, released on Holliday's Euphonic label last Tuesday, April 19.
Holliday may be best known for her stage and television career but she is no stranger to gospel. She participated in a Paul Simon-hosted "Gospel Session" for Cinemax in 1986, and released an album of gospel music, On & On (Intersound Records) in 1995. On Goodness & Mercy, the original Dreamgirl improvises and squalls tunefully like Aretha Franklin and Patti LaBelle on classics such as "His Eye is on the Sparrow" and "My Heavenly Father Watches Over Me," as well as the contemporary title track and "God Is Faithful."
On balance, Goodness & Mercy is more spoken word than singing. Warnock delivers an introductory sermonette and full-length sermon with skill and power. The more interesting tracks from an artistic perspective, however, weave Holliday's singing and Warnock's preaching together so they echo one another. The two could easily have produced an entire album of these word and music amalgams. Nevertheless, both Jennifer Holliday and Rev. Dr. Raphael Warnock put their best feet forward on this partnership.
Three of Five Stars
Picks: "Goodness and Mercy," "God Is Faithful."