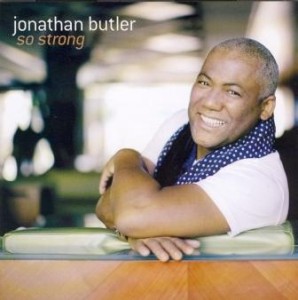 "You Got to Believe in Something" &
"I Can See Clearly Now"
Jonathan Butler
From the Mack Avenue CD So Strong (2010)
www.jonathanbutler.com
After a difficult year that marked the loss of his mother, the passing of his close friend Wayman Tisdale, and his wife Barenese's battle with cancer, it's no surprise that South African-born jazz multi-instrumentalist Jonathan Butler included inspirational tracks on his new album, So Strong.
Between smooth love songs and guitar-fueled jazz that are the ideal soundtrack to a sunny afternoon at the beach, the Grammy-nominated Butler inserts "You Got to Believe in Something" and a gospelized cover of Johnny Nash's "I Can See Clearly Now." These two in particular will resonate with the gospel crowd.
"You Got to Believe in Something" is bright, uplifting and indistinguishable
from contemporary gospel, while the lovely "I Can See Clearly Now" works as grin-inducing nostalgia and soul food for thought. About "Clearly," Butler explains, "The song is a confirmation that seasons will change. We need to stand together in faith and prayer in spite of the numerous challenges we face."
Both performances look to the sky – figuratively and literally – for assurances that life holds plenty of reasons for optimism. Meanwhile, the background vocalists perform as a small church choir and Kenneth Knight adds more gospel cred by squeezing B3-style chirps from the organ.
Reviewed by Bob Marovich for The Black Gospel Blog.