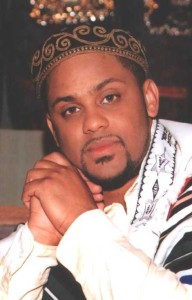 From The Miami Herald, 1/9/2008
BY ADAM PLAYFORD
Special to The
Miami Herald
Joshua Nelson is a black Jew who sings Kosher gospel music. "You hear 'kosher gospel,' and you're like, 'What is this, Jews for Jesus?' " he said. "But I take everything from more of a cultural background than a religious standpoint."
He and the Kosher Gospel Singers will bring his music Sunday to Pinecrest's Bet Shira Congregation — the site of Nelson's first professional performance, more than 12 years ago.
Since then, Nelson has performed on The Oprah Winfrey Show and before President Clinton. He has finessed his style of mixing Hebrew and English to sing gospel music with a Jewish message.
His family traces their ancestry to Senegal, Africa. They are Orthodox, and he grew up eating kosher collard greens (cooked in turkey, not swine) and macaroni and cheese (but either before dinner or with fake cheese, so not to eat milk and meat together).
When he was young, he stumbled upon one of his grandmother's records. It was by Mahalia Jackson, whom he called "the most famous gospel singer, ever."
He loved the music. But, he said, "being a little Jewish boy, I guess I wasn't the best candidate for being a gospel singer."
So he started researching gospel and discovered that it was merely the bridging of African culture and religion.
"What I do in Judaism is just marrying an African style of music with Hebrew. And if you know history real well, it's not even odd at all. It's only odd if you're looking at it from a European prospective," Nelson said.
And so he became a gospel singer.
Now he performs around the world. Some people, he said, compare him to a reincarnated Mahalia Jackson.
But for him, success is about making a connection with people, not about celebrity or praise.
"If someone's uplifted by my music, then that's successful," he said.
He wants his music to educate people, and he thinks his unique style teaches people about what it means to be Jewish.
The most frustrating part of being a black Jew, he said, is having to explain himself; he said he can only hear so many jokes about Sammy Davis Jr.
Once, after a concert, a woman came up to him and asked if he had "Jewish blood," he recalled.
"What is Jewish blood? I've heard of type O. I've never heard of Jewish type," he said. 'And she says to me, 'Oh, I'm so embarrassed.' And you should be!"
Nelson is a member of both a Reform and an Orthodox synagogue. He follows Orthodox laws but said he increasingly identifies with the Reform movement, which he describes as "saying I would rather do good for someone than do a ritual."
"Perfect example: I saw a woman who was on the street corner talking to a beggar guy — didn't have much clothes on, looked hungry," Nelson added. 'She was giving him a tract about Jesus, a little pamphlet. And I said, 'Excuse me, ma'am, why don't you show him God instead of telling him about it?' She said, 'How am I going to do that?' And I said, 'Why don't you take him to McDonalds and get him something to eat?' "
A few minutes later, he's on to the musicians and singers he plays with — some black and some white.
"Some of the blacks are Jewish. Some of the whites aren't. And vice-versa," he said. "That's the amazing thing about it, because people come to the concert, they don't know who's Jewish and who's not."
IF YOU GO
• What: Concert by Joshua Nelson and the Kosher Gospel Singers.
• Where: Bet Shira Congregation, 7500 SW 120th St., Pinecrest.
• When: 4 p.m. Sunday.
• Cost: $36; student tickets $12; sponsor and patron tickets cost $180 and $72 respectively and offer reserved seating and a special reception with Nelson after the concert.
• Info:http://www.betshira.org/ or call 305-238-2601.
TBGB NOTE: Joshua Nelson's website is
www.joshuanelson.com
. Amazing –you have to hear him do "When the Saints Go Marching In" in Hebrew, complete with bluesy gospel accompaniment!
Those of you familiar with the 1950s vocal group the Flamingos ("I Only Have Eyes for You," "Mio Amore") will be interested to know that the original members were black Jews from Chicago. They credited their haunting, minor key harmonies to their Jewish musical upbringing.