Happy New Year!
Below are the Journal of Gospel Music's picks for best recorded songs, CDs, historic reissues, and special event CD of 2014.
The lists were not compiled based on record sales, radio play, digital downloads, published charts, or anything of the sort. They simply reflect what JGM believes to be quality representations of gospel music as an art form.
Click on the Music Hour image to hear the "Best of Recorded Songs" and one "Best of CDs" track (see playlist below).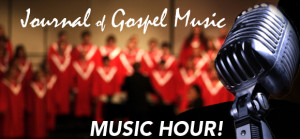 Best of 2014 Playlist
"All of My Help" – North Carolina Community Choir
"Bigger than All" – Signature
"Are You Washed in the Blood" – Andrea McClurkin-Mellini
"Turning Away" – Bryan Andrew Wilson
"No Greater Love" – Smokie Norful
"There Remaineth A Rest" – Donald Lawrence & the Tri-City Singers
"Help" – Erica Campbell feat. Lecrae
"Sunday A.M." – Karen Clark Sheard
"I Believe" – Dr. Vera J. Goodman & Anointed Praise
"My Hope Is In Glory" – Ethan Kent (from Work in Progress – "Best of CDs" list)
"Can You Feel His Glory"- foreverJONES
BEST OF 2014 ACCORDING TO THE JOURNAL OF GOSPEL MUSIC:
Best of Recorded Songs:
"All of My Help" – North Carolina Community Choir
"Bigger than All" – Signature
"Are You Washed in the Blood" – Andrea McClurkin-Mellini
"Turning Away" – Bryan Andrew Wilson
"No Greater Love" – Smokie Norful
"There Remaineth A Rest" – Donald Lawrence & the Tri-City Singers
"Help" – Erica Campbell feat. Lecrae
"Sunday A.M." – Karen Clark Sheard
"I Believe" – Dr. Vera J. Goodman & Anointed Praise
"Can You Feel His Glory"- foreverJONES
Best of CDs:
Live Through It – James Fortune & FIYA (eOne Entertainment/FIYAWorld Music)
Deitrick Haddon's LXW (League of Xtraordinary Worshippers) (Tyscot)
I Will Trust – Fred Hammond (RCA Inspiration)
Work in Progress – Ethan Kent (Tonic Blueprint/Central South Distribution)
The Kind of God We Serve: Live in Chicago – Evang. Nelson Larkins & God's Posse (TREWWORKS Music Group/Deznell Music Group)
Anomaly – Lecrae (Reach Records)
Forever Yours – Smokie Norful (Motown Gospel)
Come On In – Whosoever South (Elevate Entertainment)
Destined – The Williams Singers (Deznell Music Group)
Next Generation – Pastor David Wright & the N.Y. Fellowship Mass Choir (Godfather)
Best Historic Reissues:
Join the Union – Bessie Jones & Georgia Sea Island Singers (Tompkins Square)
Just A Little Talk With Jesus – Sallie & Cora Martin (Gospel Friend)
The Soul of Designer Records – Various Artists (Big Legal Mess)
Best Special Event Release:
Motown Christmas – Various Artists (Motown/Motown Gospel)