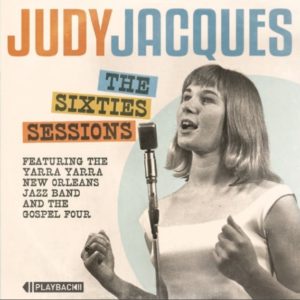 Judy Jacques
The Sixties Sessions
Playback (2016)
www.playbackrecords.net
By Bob Marovich
In the early 1960s, while teens were swooning over the Beatles and the Rolling Stones, Judy Jacques, an Australian youth, was soaking up whatever American gospel records she could get her hands on.
At the same time, Australia's Yarra Yarra New Orleans Jazz Band was introducing Melbourne audiences to traditional American Dixieland style jazz. Combined, Jacques and the Yarras gave Australians a bracing and remarkably authentic taste of black gospel and spirituals.
In the process, Jacques became Australia's Queen of Gospel and Trad Jazz.
A comprehensive survey of Jacques's 1960's religious and pop recordings has not been available until the release of The Sixties Sessions. The package includes a lavishly illustrated 32-page history, superbly researched and written by Andra Jackson and Jacques herself. It tells the tale of how a young, petite, blonde-haired former child radio star from Melbourne fell in love with black gospel and couldn't wait to share her passion with the public.
From the outset of the 24-track collection, it is clear that the beat-pushing Yarra Yarra New Orleans Jazz Band was an ideal accompaniment to Jacques's alto. The players work so hard on "Nobody Knows the Trouble I've Seen," from 1962, that the young singer starts to growling some of the lyrics. On the other hand, the Gospel Four, another combo with whom Jacques recorded gospel and spirituals, support her in a more subdued manner, staying very much out of the way.
Jacques' lithe warbled high notes and robust low range evoke a lighter version of another Aussie lead singer, Judith Durham of the Seekers. All told, Jacques' mature voice belied her thin frame as she worked to emulate artists such as Mahalia Jackson and Sister Rosetta Tharpe. But she clearly heeded the advice to temper her inner Mahalia with her own natural singing style.
Such was Jacques' affection for gospel music that when the original cast of Black Nativity toured Australia, she invited them over for barbecue. The girl who savored Princess Stewart's "That's God"—her 1963 cover of the song is included on the collection–had a chance to meet the star herself, along with Marion Williams and Alex Bradford.
The CD also includes Jacques' brief dalliance with pop, notably her 1966 single, "You're Messin' Up My Mind."  At the time, Australian radio deemed the single "too black" for airplay, but Jacques was delighted to discover that it found a second life as a favorite among the Northern Soul set.
The booklet alone is worth the price, but the music on The Sixties Sessions, mastered by Gil Matthews, offers a fascinating glimpse at how gospel and jazz inspired people of all races, ages, and countries to try their hand at shouting the glory down.
Four of Five Stars
Pick: "Nobody Knows the Trouble I've Seen"