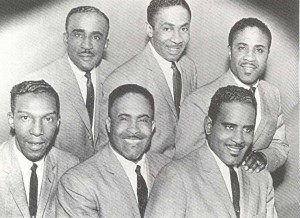 Courtesy of Barbara Allen of Middle Passage Productions
From a press release by:
Bernicola Productions, Inc. (312) 320-7988
or contact Victoria Reed, (773) 398-4726
JUBILEE SHOWCASE GOSPEL SINGER, JUNIOUS 'BUD' NORFLEET, LEAD SINGER OF THE FAMED GOSPEL SINGERS, THE NORFLEET BROTHERS, DEAD AT 82
Junious Norfleet died on Tuesday, March 25, 2008 while in the care of Integrated Health Services of Chicago at Brentwood in Burbank, Illinois. Mr. Norfleet died of complications after a stroke he suffered in February 2008.
The Norfleet Brothers were best known as the headlining act of Chicago's "Jubilee Showcase," a gospel television program that showcased the best talent in gospel music that included The Staple Singers, Willie Dixon and The Soul Stirrers to name a few. Jubilee Showcase aired on WLS-TV CH.7 from 1963 to 1984.
The Norfleet Brothers will be honored on the floor of the House of Representatives when they reconvene on Tuesday, April 1st. The group will receive a special honor of being mentioned as part of the Congressional Record, an honor that will live for all time.
Junious Norfleet (bottom row, far right in photo) was the youngest of fifteen children. The Norfleet Brothers formed the group in 1946. The family hails from Marion, Alabama, a small town not far from Tuscaloosa, but migrated to Chicago in 1948. The group was part of the Chess Records' hit factory and recorded the gospel hits "None But The Righteous," "Shadrach," "He's Sweet I Know," and "He Touched Me". The Norfleet Brothers won many awards and the group was honored with a Stellar Award.
Junious is survived by his wife, Janet Norfleet, Chicago's first female postmaster.
Visitation and funeral is scheduled as follows:
Monday, March 31, 2008
Begins at 10 a.m.
Cage Memorial Chapel
7651 South Jeffrey Boulevard
Chicago, IL
(773) 721-8900
Burial Immediately following:
Lincoln Cemetery
12300 South Kedzie
Chicago, IL 60655