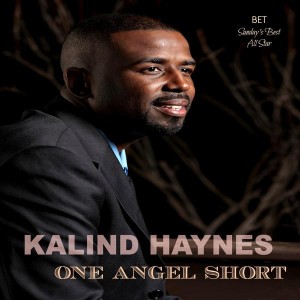 Kalind Haynes
"One Angel Short"
www.cdbaby.com/artist/KalindHaynes
At six foot, eight inches tall, Kalind Haynes of south suburban Chicago stands out physically.
He also stands out vocally.
An alumnus of BET Sunday Best, where he made it to the top ten in 2009, Haynes was praised by Tina Campbell of Mary Mary for his clean and smooth delivery.
On "One Angel Short," Haynes delivers Donald Smith's pop-inspirational love ballad in that clean and smooth delivery, a silky touch reminiscent of Luther Vandross and Peabo Bryson. The song's premise? To quote Tavares: Heaven must be missing an angel: she is here on earth, in the arms of Kalind Haynes, and he isn't giving her up for as long as he lives.  Prep the soft lights on the wedding dance floor for this one.