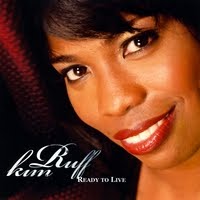 Kim Ruff
Ready to Live
Mackim Records 2009
www.kimruff.com
While enjoying Kim Ruff's singing on her debut CD, Ready to Live, I discovered something even more striking than her pleasant, pop-influenced voice:
She's one heck of a songwriter.
The Georgia native and 2010 Stellar-nominated artist has Diane Warren's touch with a melody: simple, lovely, memorable. Singers in the sacred and secular arenas would give their eye-teeth to wrap their chops around some of the compositions on Ready to Live.
In addition to her songwriting skills, Ruff sings with the silky smoothness of Tonya Hairston Ware or Joann Rosario. She credits Kenneth "Babyface" Edmonds and Whitney Houston among her musical inspirations, and you can hear a touch of both artists in her singing. It is no surprise, then, that Ruff's finest performances are on the album's gospel ballads, and there are several. "Source of My Strength," "Until You Come" and the title track are good examples. The latter is an inspirational song about shaking off the past and becoming all you can be, a song tailor-made for a youth choir.
The singer-songwriter saves the best for last with "As Good as it Gets." While based on Philippians 3:13, it sounds autobiographical: a singer, realizing she has finally reached her destiny, takes time during her performance to soak up the dazzling moment. Then the humbling thought: "If it's a dream, please don't wake me yet/'Cause this may be as good as it gets." Anyone at the top of his or her game will appreciate this bracing dose of honesty. Add background vocals, a dramatic key change on the final chorus and a thunderous coda, and "As Good as it Gets" is a crossover hit on the adult contemporary charts. Still, it is one of the best songs I've heard in 2009, and if Ruff wins a Stellar Award in January, I'm sure the song will be running through her mind as she ascends the stairs to receive her honor.
Four of Five Stars
gPod Picks: "As Good as it Gets," "Source of My Strength," "Until You Come."