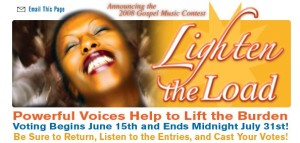 As the Helen Robinson Youth Chorus sang, "Time is Winding Up!"
The 2008 Lighten the Load Gospel Contest is seeking Gospel Choirs that are affiliated with a church and would be interested in submitting music for the contest. The areas in the program are as follows:
* Atlanta, GA
* Birmingham, AL
* Chicago, IL
* Philadelphia, PA
* Jacksonville, FL
* Los Angeles, CA
* St. Louis, MO
It's not to late to enter the 2008 Lighten The Load Gospel Contest. Your church can win one of fourteen $2000 cash awards plus the opportunity to be featured on the inspirational CD which inspires and raises awareness about sickle cell disease.
The entry process is very simple. Log onto www.askaboutiron.com/music read and download the complete rules and submission forms. Fax the entry form to 973-326-8824 with hard copy to be received no later than Tuesday, May 13th. YOU CAN SEND AN MP3 FILE; HOWEVER, A HARD COPY MUST BE SUBMITTED, ALSO.
The recorded song, lyrics and completed submission form must be received no later than Tuesday May 13, 2008 at:
Attn: David Cheek
Be Sickle Smart
Lighten the Load Gospel CD Contest
Submission Department
1 High Street Court
Morristown, NJ 07960
Visit www.AskAboutIron.com/Music
The CD will be launched in September or October at festive parties for Sickle Cell Disease patients, caregivers, and loved ones-and the winning choirs. It is distributed FREE to uplift and educate those who experience sickle cell disease. This powerful CD will feature inspirational music from some of the finest church choirs and musical ensembles in the country.