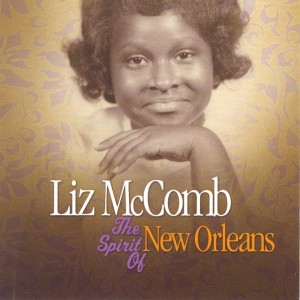 The Spirit of New Orleans
Liz McComb
GVE 2008
(Available in the US on April 22, 2008 by Sunnyside/Ryko Distribution)
www.sunnysiderecords.com
Much has been made of the symbiotic relationship between blues and gospel music, but as Liz McComb's The Spirit of New Orleans demonstrates, there's an equally strong lineage between jazz and gospel. After all, Dorsey's vaudeville blues resembled jazz more than country blues, his piano work was fundamentally steeped in jazz, and gospel's greatest vocalist, New Orleans-born Mahalia Jackson, was a musical embodiment of her hometown's jazz legacy. Further, Alex Bradford and Sister Rosetta Tharpe worked with Chris Barber's Jazz Band, with musically inventive results. Elizabeth Eustis sang with jazz musicians inside the church.
On The Spirit of New Orleans – recorded in New Orleans in April 2001, released in Europe and available in the U.S. this week – McComb and her trumpeting vocal delivery are an instrument in a full-bodied Dixieland jazz combo that features a strong brass section, remarkable contributions on piano and Hammond organ by Byron Johnson, and a potent vocal ensemble in Eric Brown and Charity.
While four of the twelve tracks are McComb compositions – her "The Big Mess" is humorous and metaphorical on so many levels – the Ohio-born and Paris-based gospel chanteuse delivers several gospel classics, including Sister Rosetta Tharpe's "Strange Things Happening Every Day," and a slow tempo, minor key version of "I Know It Was the Blood." On "You've Got to Move," McCord launches Mahalia-esque impromptu vocal exclamations between the lyrics, and gives a standing ovation performance of "Old Man River," supported on piano by the brilliant New Orleans RnB pioneer Willie Tee (Wilson John Turbinton – "Teasing You," 1965) who passed away September 11, 2007.
McComb, whose mother, Rev. Fannie McComb, was pastor of a Pentecostal church in Cleveland, was unsure how American gospel enthusiasts would accept The Spirit of New Orleans because of its jazz-gospel fusion. My take is that after hearing this CD, anyone who still fosters concern about this musical partnership whatsoever is happier to be mired in rhetoric than open to the joy and melancholy of the human experience that gospel and jazz express so well, and even better together.
Four of Four Stars