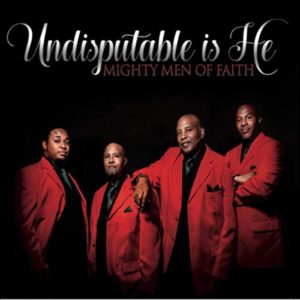 Mighty Men of Faith
Undisputable is He
N2L Records (release date: March 26, 2019)
www.mightymenoffaith.com
By Bob Marovich
With a name that sounds like an alliance of Christian superheroes, the Mighty Men of Faith is a gospel quartet with shiny, sweet harmonies, a sacred redux of '90s R&B vocal groups like Boyz II Men, Shai, and Atlantic Starr.
Their newest release, Undisputable is He, is chock-a-block with smooth ballads dripping with syrupy singing and chord changes plucked from modern R&B and soul. The Mighty Men of Faith are crooners, not shouters; their quiet storm vibe shifts gospel quartet into the contemporary sphere.
Examples on the album abound. One song in particular, "That's What He Did for Me," sounds fit for a movie soundtrack, though a hymn-like chorus plants its feet firmly beneath the church pew. "Now I'm New," another pretty ballad, explains how God gives us freedom from trials and freedom for salvation.
God's fatherly protection is the thread that connects these and several other songs on the album, such as "He's Got My Back" and "Everywhere." The R&B-flavored "Because He Loves Me" depicts a God who can create nature's most majestic wonders yet stoop low to wipe the tears from our eyes.
"Looks like I'm Falling in Love" continues the trend among gospel artists, initiated in large part by Fred Hammond's 2012 God, Love & Romance, to record a love song that is equally effective at a gospel program as at a wedding ceremony.
"It's a Good Thing to be Chosen," the album cut closest to mainstream gospel, is an altar call selection. It uses the story of Moses's rise to greatness as an example of obeying God's command, even when we don't feel up to the call.
Outside of a brief rap interlude on "Show Me the Way," Undisputable is He remains consistent in its delivery of soothing messages about God's fatherly embrace.
(For grammarians who, like me, wondered whether the word is "undisputable" or "indisputable," both are correct; "undisputable" is a variant of "indisputable."  Now keep calm and carry on.)
Four of Five Stars
Picks: "Now I'm New," "That's What He Did for Me"