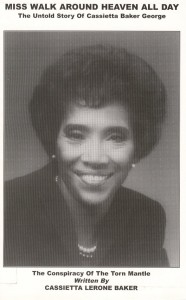 Miss Walk Around Heaven All Day:
The Untold Story of Cassietta Baker George
Cassietta Lerone Baker
Self Published 2008
www.cassiettaleronebaker.com
"One of these mornings/It won't be very long;
You'll look for me and I'll be gone."
And then a piercing chord from a Hammond B3 swings down like the blade of a guillotine.
That's "Walk Around Heaven All Day," as performed by Cassietta George.
Though credited to the Caravans, this 1964 recording for Vee Jay Records that bears musical resemblance to "That Lucky Old Sun" is really a Cassietta solo. There are no other Caravans present on the recording, but no matter, nobody else was needed. Cassietta made that song a gospel masterpiece all by herself.
Subsequently, "Walk Around Heaven All Day" has been covered by hundreds of gospel artists, sampled by the techno artist Moby, and is one of the 100 most influential gospel songs of all time. It's the one recording I want played at my funeral.
But who was the person behind the song? Cassietta Lerone Baker, the singer's nephew, sets out to tell that story in Miss Walk Around Heaven All Day. Baker recounts Cassietta's successes as well as her very human failings. He also opines that she took more than her fair share of elbows in the ribs from fellow artists along the gospel highway.
The opening section of the book offers an interesting biography of the legendary Memphian's early years, her membership in the Songbirds of the South, and how she came to join the Caravans.
Baker pulls no punches in telling the story. As the book progresses, Baker's narrative takes on a personal catharsis. He prepares the reader by indicating in the acknowledgements page that writing the book was a "painful journey" but "it is time for closure." Indeed, while pouring out page after page of emotionally-charged prose about the disrespect and dishonor his aunt suffered, like Quentin Compson in Faulker's Absalom Absalom, Baker seems to be exorcising the burdens of the past from his own soul.
Portions of the book unveil behind the scenes cat-fighting as well as serious allegations of chicanery, at times coming across like a gospel "Hollywood Babylon." Be forewarned: some of the allegations in the book, and on Baker's website, are graphic and not for the faint of heart. They are controversial to say the least and will encounter no small amount of criticism from the gospel community. Ultimately, it's up to the reader to separate the wheat from the tares.
The narrative has a tendency to whiplash back and forth chronologically. This and the syntactical errors should have been given a good once-over by an editor before going to print. Baker's book would also have benefited from testimonials by known gospel artists to corroborate or refute the allegations, providing a more even-handed history.
A discography of albums on which Cassietta George is soloist concludes the book.
Cassietta George, who is now walking around Heaven all day, is one of gospel music's greatest treasures whose body of recorded work has withstood the test of time.
The book is available directly from the author at www.cassiettaleronebaker.com.