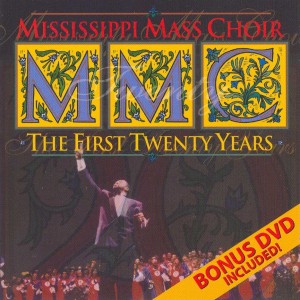 Mississippi Mass Choir
The First Twenty Years
Malaco 2008
www.malaco.com
On the seventh day, Frank Williams created the Mississippi Mass Choir. And it was good. Loud. But really good.
If the Chicago Mass Choir is known for its vocal propulsion and the Georgia Mass Choir for its ability to leave you weeping, the Mississippi Mass Choir can knock you off your feet with its sonic power.
And now MMC is XX. Time flies when you're in the rapture. And to mark the occasion, Malaco Records has released The First Twenty Years, a wonderful compilation of some of the group's finest moments over the past two decades.
The liner notes include a brief history of Mississippi Mass, particularly its founding by the late Frank Williams, Malaco Records executive and lead singer with the Jackson Southernaires. Williams, along with Jerry Smith and COGIC music minister David Curry, held open auditions to form the nucleus of the first choir. In October 1988, only five months after the first rehearsal, the group recorded its debut album, Mississippi Mass Choir, Live in Jackson, MS. That album took, and held, the number one position on the Billboard gospel album chart for a record 45 weeks.
Today Mississippi Mass has about 150 members. "Students, nurses, police officers, doctors, teachers, truckers and people of various professions" comprise the choir. A common denominator is the group's ability to take an old hymn or a new composition and make it their own, while casting it completely and unforgettably in the traditional gospel choir sound. This retrospective underscores the choir's special knack, however, for interpreting the classics.
Among the tracks included on The First Twenty Years are "Near the Cross" from that historic first album in 1988; and "Your Grace and Mercy," the choir's hit version of Fanny Crosby's "Blessed Assurance." Other memorable tracks include "Jesus Paid It All," the pew-rousing "They Got the Word," and "It Wasn't the Nails."
The aptly titled "It Was Worth It All" provides the soundtrack for an altar call by Rev. Benjamin Cone, almost as compulsory for a Mississippi Mass concert as the COGIC "Yes Lord" chant was for recordings of another high-energy mass choir, the Southwest Michigan Mass Choir, led by Mattie Moss Clark.
Charismatic male and female soloists lend their talents to the muscular power of the chorus. The liner notes would have been even better had they recognized the lead vocalists for each song, and the year in which the recording was released.
If hearing is not believing enough, check out the companion DVD, which isn't a separate purchase but actually comes with the audio CD. Such a deal!
In an era of musical sub-categorization, Mississippi Mass Choir is all about gospel, with a capital G. Here's to twenty more years of doing just what you do.
Four of Four Stars