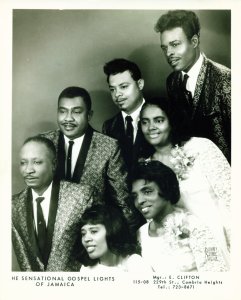 Two years ago, TBGB reviewed "Couldn't Hear Nobody Pray" by Frederick
"Nee" Smith and the Sensational Gospel Light (Rae Cox 144) as an Essential Gospel pick.
Classic Gospel: Essential Recordings – Week 112
As with many 50s and 60s quartets, biographical information is often scarce, and at the time we were unable to say much about the artists of that powerful performance. I posited a plea for more information. Minister Donnie Addison wrote TBGB recently to shed some "gospel light" on Frederick "Nee" Smith and the Sensational Gospel Light.
It turns out that Freddie was an original member of Tommy Ellison & the Singing Stars, and performed with The Five Blind Boys of Alabama during the time when Clarence Fountain was pursuing his solo career. Smith recorded several songs on some of the Blind Boys' HOB LPs. In addition to his Rae-Cox singles, Smith also recorded for Hoyt Sullivan's Su-Ann and HSE imprints.
Although anyone who has met Donnie Addison knows he is a walking encyclopedia of gospel quartet history, how Addison came upon information about Smith is quite interesting.
Addison told TBGB that he was leafing through a stack of records at his aunt's home and came up with something like ten copies each of some of Freddie's 45s. Of course, his curiosity was piqued, and he asked his aunt why she had so many of Smith's records. She told him that she used to date Freddie Smith when she lived in New York.
His aunt proceeded to tell him hilarious stories about how Freddie & the Sensational Gospel Light female singers would practice their fancy footwork in front of a mirror to make sure everyone was on time with their "shout moves". As Donnie relates, tongue-in-cheek: "Well, it was the 1960s and hard quartet gospel was competitive. What would it look like to not shout in synchronization?!"
Sadly, his aunt lost touch with Smith and does not know his whereabouts or if he is still alive. Meanwhile, we have a photo provided by Addison to admire (thanks, Donnie!).