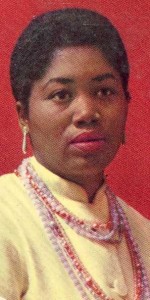 Tune to 88.7 WLUW Chicago this Sunday morning, January 4, from 3:00 to 7:30 a.m. Central Time…
for the monthly live broadcast of "Gospel Memories" – the soundtrack to That Old Time Religion.
Not in Chicago? No problem. Visit www.wluw.org, click the Listen Live button, and enjoy "Gospel Memories" from wherever you are!
Highlights of the January 4 Broadcast: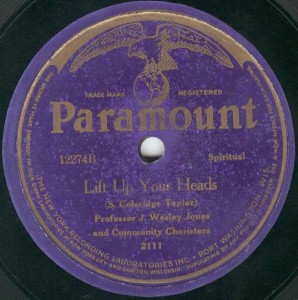 Benediction: "The Lord's Prayer":
Historic 1925 recording of Prof. J. Wesley Jones and the Metropolitan Community Chorus, the classical music stars of pre-gospel black Chicago, featuring a recitation by the church's founder, Rev. W.D. Cook. Gospel choir pioneer Magnolia Lewis Butts is very possibly on this recording.
RIP: Odetta Holmes Gordon (photo above, circa 1960) – folksinger, balladeer, spirituals singer, Civil Rights activist – hear some of her performances of spirituals from the early 1960s.
Songs from a live performance of Chicago's Apostolic Church of God Sanctuary Choir w/the Chicago Sinfonietta at Orchestra Hall, 1995.
Preacher Feature:
"Wise Head, Foolish Heart" – Rev. Eugene Cochran, Pastor – Philadelphia MB Church (Memphis, TN – 1971)
Recordings by classic artists such as:
Swan Mellarks (photo right – a tribute to Mahalia Jackson)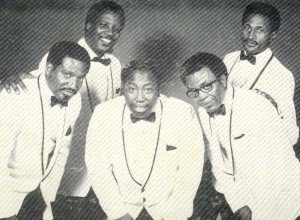 R.L. Knowles
Soul Stirrers
Cotton Brothers (a special New Year's song)
Cassietta George
Evelyn Gay
Rev. Ford Washington McGee & Congregation (1930)
Trumpet-letts
Harmonizing Four
Gospel Troubadours
Pilgrim Jubilee Singers
Elder James Lenox
St. Paul Baptist Church Choir "Echoes of Eden"
Original Church of God in Christ Radio Choir – featuring a young Rance Allen
Delores Chandler and the Chandlerettes
"Chicago's own" Mel-tones
…and much more!
So tune in and turn on to "Gospel Memories"…it's radio-therapy!
CHECK OUT OUR NEW LOOK: www.gospelmemories.com. Handsome!
Studio line: (773) 508-WLUW.