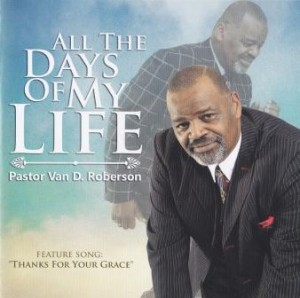 Pastor Van D. Roberson
All the Days of My Life (2012)
www.cdbaby.com/cd/pastorvanroberson3
By Bob Marovich for The Black Gospel Blog
Pastor Van D. Roberson's CD All the Days of My Life could easily be subtitled Pastor Van D. Roberson and Friends. The Texas-based minister summons an army of ministers, singers, and musicians to join him in having a little church.
And they do have church. Roberson's gravelly, quartet-hewn voice is the ideal vehicle for his simple, down-home messages. Joe Ligon of the Mighty Clouds of Joy joins him on "Momma Remembered," a song about a long-sacrificing mother who has passed on and in a better place. The heavenly reunion that awaits everyone who, like Momma, follows the righteous path, is the subject of the uptempo "Over In Zion." The implicit warning for those who do not is Roberson's take on the classic "This May Be My Last Time."
The album's single is "Good To Me," on which Pastor Roberson and Pastor M.O. Cooper join with the Pastors' Chorus of Bryan/College Station on an old-fashioned quartet hip-slapper. Roberson is in his finest form on "Amazing Grace." Once he cranks his voice into a shout, the moment transitions into a praise break.
Not every song on the album is traditional. First Lady Kimberly Thompson gives a commanding performance on "Praise Him Now," a contemporary gospel song. Pastor Roberson sings the equally contemporary "Thanks For Your Grace," and his daughter Tiva gives "Solid Ground" an urban AC treatment.
The CD ends with "Going to a Place," a powerful track from Rest In Me (2006) by the Second Baptist Church Choir of Santa Ana, California. Rev. John Nix-McReynolds leads this joyous depiction of the great beyond. It is bittersweet in that Nix-McReynolds, who had just recovered from a heart attack at the time of the choir recording, departed this world in April 2011, at age 57.
All the Days of My Life is a genuinely enjoyable listening experience.
Four of Five Stars
Picks: "Momma Remembered," "Amazing Grace."