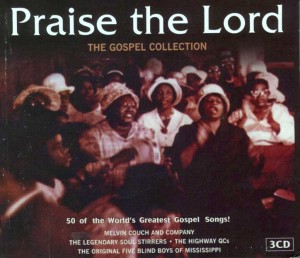 Various Artists
Praise the Lord – The Gospel Collection
Meltone Entertainment Group 2008
www.MeltoneEntertainmentGroup.com
Imagine driving in your car on a Sunday afternoon in the American South, the AM radio tuned into a low-power local gospel music station.
Yep, Meltone's three-CD collection Praise the Lord is like that.
This budget-priced set of previously (and fairly recently) issued recordings offers a marvelous shuffle of gospel artists and styles, and not exclusively Meltone-signed artists, either. The lineup includes recent iterations of classic quartets such as the Mississippi Blind Boys, Soul Stirrers, Violinaires, Brooklyn Allstars and Supreme Angels; Chicago choirs such as Rev. Clay Evans & the Fellowship Choir, Father Hayes and the Warriors (feat. Dianne Williams); and legendary singers such as Cissy Houston, Inez Andrews, Doc McKenzie, the Barrett Sisters, and the woefully underappreciated Katie Sankey. Hammond B3 wiz Moses Tyson Jr. is well represented, and label exec Melvin Couch contributes a few traditional tracks to the compilation, as well.
Many of the fifty songs are classic old-time gospels, such as "City Called Heaven" (Original Soul Stirrers), "Peace in the Valley" (Mississippi Blind Boys), and "Two Wings" (Inspirational Charms). Group signature songs such as the Brooklyn Allstars' "Stood on the Banks of Jordan" and "Family Prayer" are reprised by the new membership and are as close to the original as modern audiences will allow.
Hard core quartet enthusiasts will appreciate the fact that Praise the Lord includes contributions by groups such as the Pilgrim Wonders, Chicago Travelers, and Martin Jacox and the Gatling Staff Choir, whose recorded output is not easy to find.
Of the fifty songs in the collection, the set's true gem is Babbie Mason's "God Will Open Up a Window." It's a fine old-style congregational song that is rendered so cheerfully that the chorus literally seems to parade around the church in step with the saints.
If there's a downside, it's that some of the longer songs are faded out early to keep within the CD's time limitations, but the cuts are done tastefully and with respect to the content.
'Tis the season for music boxed sets. There aren't nearly as many released in gospel as there ought to be — and if it weren't for the Proper boxes, hardly any — but Praise the Lord is certainly a collection that will be a treat to your ears, and to your pocketbook.
Four of Four Stars