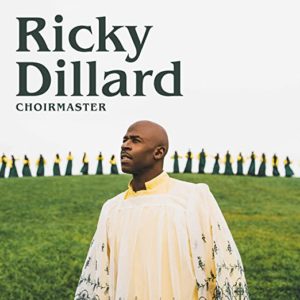 Ricky Dillard
Choirmaster
Motown Gospel (release date: May 1, 2020)
www.motowngospel.com
By Bob Marovich
Ricky Dillard and New G went back to their roots to celebrate their debut on Motown Gospel as well as the thirtieth anniversary of The Promise, the album that introduced them (and their megahit "More Abundantly") to the general public.
Choirmaster, released last month, was recorded in the same church, Chicago's Haven of Rest Missionary Baptist, where The Promise was made. The church, perfectly-sized for the 1990 outing, could barely hold a fragment of those who turned out for this live recording. By returning not only to the church, but to the churchy Chicago sound that launched the group, Dillard and New G have come up with their finest album in several years.
Among Choirmaster's most notable highlights is, of course, a new version of "More Abundantly," which appears early on the set list and anchors a medley of spirited church devotionals. Like a veteran Chicago church vocalist, Lillian Lloyd, the "ad lib queen," leads Dillard's composition, "God's Gonna Do It," with blood-curdling squalls, spitfire lyricism, and concrete-crushing shouts. It has much of the motive force of "More Abundantly" but without the iconic cascading section work.
Donisha Ballard, one of gospel's most incendiary soloists but, for some unknown reason, a well-kept secret, leads another church rouser, "Never Failed Me Yet." Here the troupe evokes the hard-charging energy of the Chicago Mass Choir and the Cosmopolitan Warriors. While "God's Gonna Do It" earns every one of its eleven minutes, the equally extended "I Won't Go Back" could have been edited in half without loss of power or meaning.
Quartetter Keith "Wonderboy" Johnson joins for a loping "choir-tet" cover of the Mighty Clouds of Joy's "He's My Rooftop." Tiff Joy, composer and leader of New G's hit "Amazing," leads the latest single, "Release" (the radio edit of the nearly eight-minute original is a bonus track). This P&W-inspired slow burner about the anticipated arrival of private victories and personal breakthroughs for the faithful is about as contemporary as any track gets on the album. Even here, however, New G's dense and thunderous harmonies are in full force as a reminder of the choir's musical primacy.
Perhaps the album's most unusual selection is the 1955 "Let There Be Peace on Earth"—not for its message, which is supremely relevant, but for being a stranger to the traditional gospel canon (though Mahalia Jackson recorded it in 1967). Its coda, on the other hand, is gospel royalty. It comes from Minister Thomas Whitfield's arrangement of "Peace Be Still," written and sung by Vanessa Bell Armstrong in 1984 and the de facto version of the nineteenth-century hymn presented today. On both songs, Thomas Allen dazzles with his male soprano high notes.
Ricky Dillard wants to put the church choir, as he says it, "back on the choir stand." Albums like Choirmaster should indeed restore the choir to its appointed place behind the pastor.
Five of Five Stars
Picks: "More Abundantly Medley," "God's Gonna Do It," "Never Failed Me Yet"