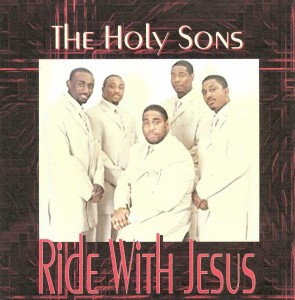 Ride With Jesus
The Holy Sons
Quartet Boyz Records 2008
http://www.myspace.com/theexcitingholysons
Hailing from Chicago's west side, where the group was formed twenty years ago as the New Garden Messengers, the award-winning Exciting Holy Sons have slowly but surely made their mark on the national quartet scene.
The group may not be as well-known outside of the tight-knit quartet community as the Mighty Clouds of Joy or the Pilgrim Jubilees, but they have shared the stage with these leading quartets. Moreover, they have made appearances in highly-visible venues, such as at the Gospel Music Workshop of America, various Gospel Announcers Guild programs, the American Gospel Quartet Convention, and on the Sunday afternoon quartet stage of Chicago's Gospel Fest (2003).
So the Exciting Holy Sons are on their way. Today the group consists of David Hallom, U.L. Hallom, Kevin Hamilton, Ronald Wilkins, Charles Walls, Anthony Roach, Jerry Morton and Authur Gould. In fact, the Hallom Family is the underpinning of the quartet as singers, musicians, and management (Sis. Terry Hallom formed the group and remains its booking agent). They have a brand new CD, Ride With Jesus, released on Dwight Gordon's Quartet Boyz label.
Fascinatingly, the CD's first track, "I Know I've Been Changed" riffs off of Queen's 1977 smash "We Will Rock You," replacing the rock band's unforgettable power chorus with "He Will, He Will Change You," and retaining the familiar stomp-stomp-clap beat and fuzzy electric guitar. This may well be the first time the power pop anthem – or any Queen song, for that matter – has been gospelized!
"Thank You Lord" is the radio-friendly track, an uptempo drive number that features metronome-steady background vocals by the Exciting Holy Sons. Also memorable is "I Wanna Ride," a sweetly smooth take on "Swing Low, Sweet Chariot" that makes the journey from earth to paradise seem a whole lot more joyful than the spiritual version does. The "going home" theme continues on "House of the Lord," and is the basis of the album's title.
The CD concludes with a killer bonus live track that features the Holy Sons tearing up the stage with an eight minute version of "Touch Me." Duelling lead vocalists bite hungrily into the song's vamp in a style similar to fellow Chicagoans the Victory Travelers. The Sons' performance was fiery enough to take the house, but the recording must have been made through the mixing board, because the live audience is nowhere to be heard.
The name change from the "Exciting Holy Sons" to simply the "Holy Sons" eludes me, though I'm sure there's a reason. Meanwhile, quartet enthusiasts can catch the Exciting Holy Sons on quartet cavalcades throughout the year and throughout the country. Ride With Jesus will give them access to the group's hard-singing quartet sound whenever they want.
Two and a Half of Four Stars