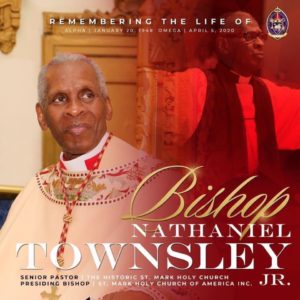 By Bob Marovich
Another soldier gone: Bishop Nathaniel Townsley Jr., senior pastor of St. Mark Holy Church in New York and the presiding bishop of the St. Mark Holy Church of America, Inc., transitioned from labor to reward on April 5, 2020. He was 72.
In addition to a long and distinguished pastoral career, Bishop Townsley was the leader of the St. Mark Gospel Ensemble that recorded a popular album for Veep Records in March 1968. As pastor of Light Church Of Love & Peace in Brooklyn, he sang with the Lighthouse Ensemble on its ca. 1974 album for Peacock.
His father, Nathaniel Townsley Sr., sang with pioneering New York quartet, the Selah Jubilee Singers.
"Nate Townsley was a kind and charming man," said Anthony Heilbut, author of The Gospel Sound. "He was also a great musician. Though he grew up in the quartet tradition — even singing with the Selah Juniors — he was happier in the gospel side of gospel. Only a couple years younger than Billy Preston, his fingers were as magical. To my ears, he was the best organist in the five boroughs."
Let us keep Bishop Townsley's family, friends, and congregation at the top of our already heavy prayer list during this troubling time.