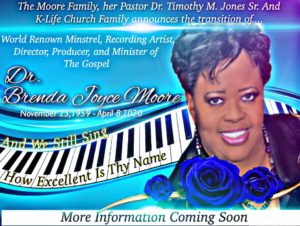 By Bob Marovich
Another loss: Dr. Brenda Joyce Moore, a songwriter and musician perhaps best remembered for penning "Perfect Praise," also known as "How Excellent is Thy Name," passed away on April 8, 2020.
"Perfect Praise," popularized by Dr. Walt Whitman and the Soul Children of Chicago on their 1990 album, This is the Day, featured lead vocals from the late Lecresia Campbell. Not only did the song sweep radio, but every church choir and youth group put it in their repertory. It is one of the 100 most influential gospel recordings of all time.
Among other notable songs Dr. Moore wrote was the churchy and uptempo "Let God Do It" (1996) for the Chicago Mass Choir, featuring lead vocals by CMC executive Dr. Feranda Williamson.
Please keep Dr. Moore's family, friends, and many fans at the top of your prayer list during this time.