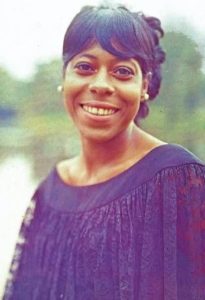 By Bob Marovich
JGM learned from several sources that Delores Washington-Green, known as the "Gospel Princess," transitioned from labor to reward.
Hailing from Robbins, Illinois, a far south suburb of Chicago, Delores Washington-Green was born to Evelyn and Robert Washington and began her singing career as an entrant in a talent competition called Artists of Tomorrow. She received a scholarship to the Chicago Conservatory of Music, where she received classical training. In 1955, Vee Jay Records recorded her first single, with Reverend Maceo Woods on organ, but as it is nearly impossible to find today, it may never have been given a national distribution.
No matter. Three years later, the Caravans' musician Eddie Williams, also a Robbins resident, told Washington that the Caravans were looking for a soprano singer. The Caravans trooped to the far South Side and successfully recruited Washington for the group. She became known as the Gospel Princess for her youthful vibrancy and trained soprano voice. Like Lady Doris Sykes of the Christian Tabernacle Concert Choir, Washington's tone was light and reserved, but she could be unrestrained when the spirit fell.
Although Washington was not one of the Caravans' more prolific lead vocalists like Shirley Caesar or Inez Andrews, she did record several lead turns over the years. Among them were "I Don't Need Nobody Else" and "Seek Ye the Lord' (1962), "Unto Thee Oh Lord" (1963), "Nothing Can Stop Me" (1964), "It Is Well" and "That's Why I Call Him Mine" (1966), and several selections on the Caravans' 1967 album, Wade In The Water.
In the late 1960s, Savoy Records produced two solo albums: The Sincere Gospel Sound of Delores Washington (1969) and Deep River (1970).
Washington was such a stalwart Caravan that when the group reunited for a 2006 Malaco recording, she was one of the four principals on that disc. Released September 5, 2006, the Caravans' Paved the Way featured titles that made them famous, most notably "Mary Don't You Weep," "Lord Keep Me Day By Day," and "No Coward Soldier."
Delores Washington-Green also sang with the James Herndon Singers ("Oh Lord Have Mercy") and the Shirley Wahls Singers, and appeared as a soloist until recently. She was married to Charles Green of the Pilgrim Jubilees. She was a dear person and will be missed by many.