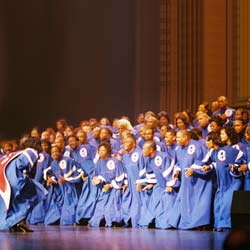 From D.A. Johnson of Malaco Records:
The Mississippi Mass Choir Family regretfully announces the passing of our beloved singer – Rogina Thomas – on Saturday, December 27, 2008.
Her homegoing service will take place:
Saturday, January 3, 11:00AM
Greater Tree of Life M.B. Church
3102 Monticello Drive, Jackson, MS, 39212,
Rev./Dr. F.L. Blount, Pastor.
Although her signature song was "He Can Fix What is Broke," Rogina also was lead singer on "He's Coming Back," "By Grace," "You Brought Me," and "Wise Men Still Seek Him."
She leaves to cherish her precious memory, her loving husband Bobby Thomas, and daughters, Ronita Thomas and Bonitsha Thomas; and a host of family and friends.
Expressions of condolences can be forwarded to:
The Mississippi Mass Choir Ministries
PO Box 11279
Jackson, MS 39283
(All expressions will be forwarded to the Thomas Family)
Astronomers tells us that there are stars that burned out thousands of years ago, whose light can yet be seen in the celestial sky; Rogina Thomas was such a star.